---
Zineb Sedira: Dreams Have No Titles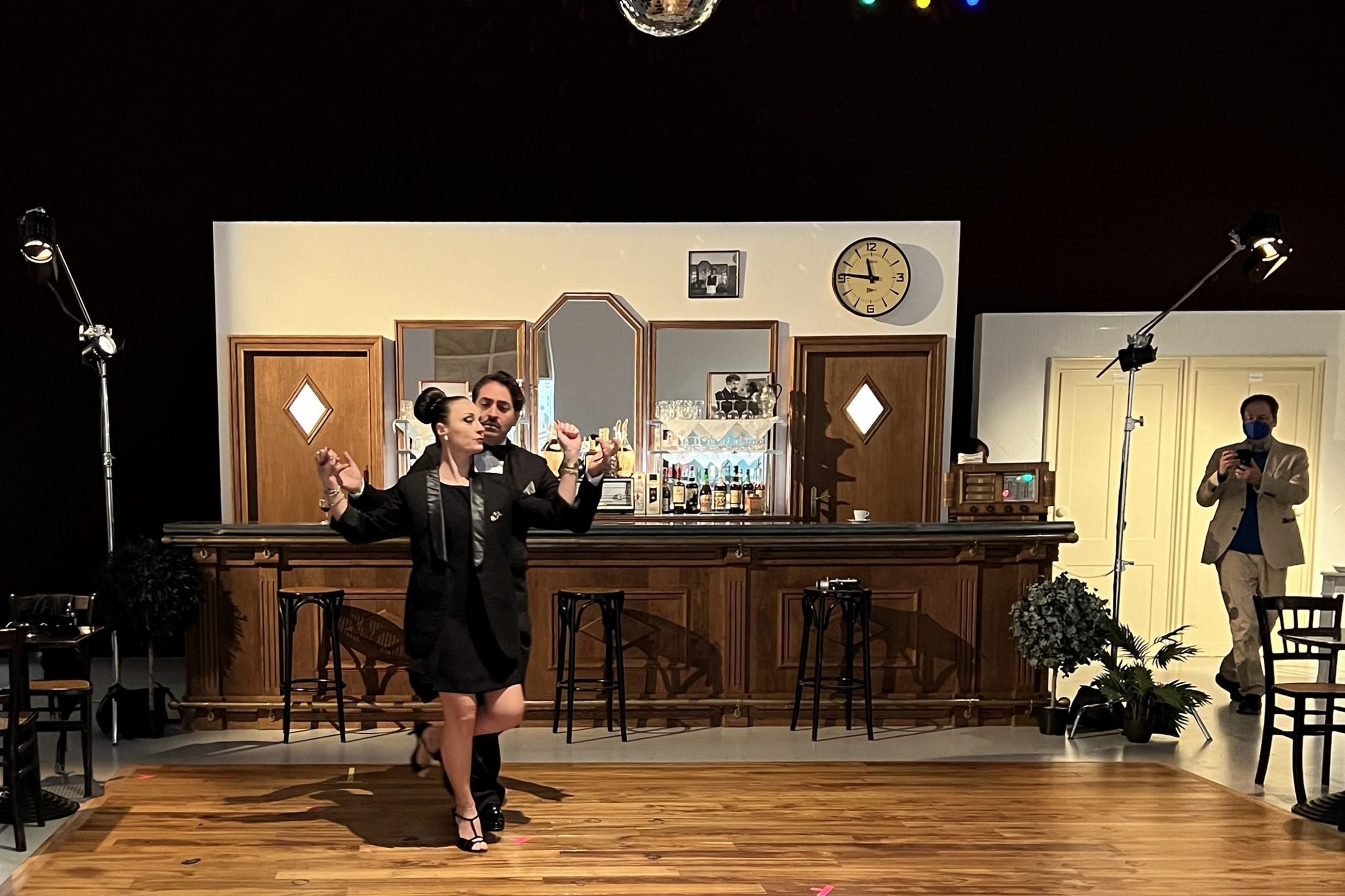 As a little girl, Zineb Sedira loved the magic of cinema. Decades later she captures that magic and captivated audiences at the Art Biennale in Venice. Her contribution, Dreams Have No Titles, is a hybrid of theatre, film and set design. Zineb effortlessly transforms the stage into a 1970s-era film shoot, investigating the nature of film and performance through a decidedly postmodern lens.
This year, Dreams Have No Titles is coming to Berlin. Zineb is supported by a team of curators, including the new directors of the Hamburger Bahnhof, Sam Bardaouil and Till Fellrath. The piece will be in the Hamburger Bahnhog starting February – don't miss the magic.
Hamburger Bahnhof Invalidenstr. 50/ 51, Tiergarten, Tue, Wed, Fri 10 a.m.–6 p.m., Thu to 8 p.m., Sat/Sun 11 a.m.–6 p.m., €14/7, Feb 24 – Jul 30, details
---
European Month of Photography (EMOP) 2023
This year marks the 10th anniversary of the European Month of Photography, Germany's biggest photography festival. "Touch" is the theme this year. Expect exhibitions in dozens of museums, exhibition institutions, memorial sites, archives, libraries, collections, cultural institutes, photography schools, as well as private and public galleries and project spaces across Berlin and Potsdam. The festival kicks off with the Opening Days event in the Academy of Arts on Pariser Platz. The first four days will offer a diverse supporting programme including talks, panel discussions and book presentations.
Various locations in Berlin Mar 2-31, details
---
Flashes of Memory – Photography in the Holocaust
Long before the liberation of the camps and the emergence of the first images of those atrocities, Jewish photographers had risked their lives to document their struggle for survival. The exhibition Flashes of Memory: Photography During the Holocaust at the Museum of Photography explores those different perspectives . Photographs, films, and cameras from archives and museums across the US, Europe, and Israel have been brought together for the show, which first opened in Jerusalem in 2018.
Museum for Photography Jebensstraße 2, Charlottenburg, Tue-Sun 11 a.m.–7 p.m., Thu until 8 p.m., €10/5, free for under 18s, Mar 24-Aug 20, details
---
Retrotopia—Design for Socialist Spaces
"Back to the future" is the motto of this exhibition, which focuses on Cold War-era utopian design, in the Kunstgewerbemuseum (Museum of Applied Arts). While we are all too familiar with western retro-futurism from films, photo books and exhibitions, the social and ideological design vision of the Soviet Bloc is less well known. The exhibition was developed together with various expert teams. Exemplary designs for public and private spaces will be shown, from the kitchen to the airport lounge.
Kunstgewerbemuseum Matthäikirchplatz, Tiergarten, Tue–Sat 10 a.m.–6 p.m./ Sun 11 a.m.–6 p.m., €8/4, Mar 25–Jul 16, details
---
Opening: Fotografiska
The Tacheles was once a legendary spot for Berlin subculture and art. Now its new resident revives some of that history with its own new vision: the Fotomuseum Fotografiska will open in the renovated historical rooms (date still unknown). Berlin will join New York and Tallinn, where offshoots of the hip Stockholm museum already exist. With one eye to Berlin's unique artistic culture, the museum will take care to work with local networks and artists. Consider us excited!
Photographer Berlin Oranienburger Str. 54-64, Mitte, keep an eye out for the date announcement
---
Daniel Boyd: Rainbow Serpent (Version)
The Australian artist of indigenous origin Daniel Boyd is one of the leading artists in Australia today. His work investigates the colonial history of Australia from an Indigenous lens. With Rainbow Serpent (Version), the Gropius Bau is showing the most comprehensive exhibition of his works in Europe to date. Boyd links Australia's colonial past to First Nations creativity, resistance networks and personal family histories. In the Gropius Bau, Boyd sets up a lighting concept that uses natural light to illustrate how narratives continuously move through time and space.
Gropius Bau Niederkirchnerstr. 7, Kreuzberg, Mon, Wed–Fri 11 a.m.–7 p.m., Sat–Sun 10 a.m.–7 p.m., €7/5, Mar 24 – Jul 9, details
---
Gerhard Richter / Tehching Hsieh
The German painter Gerhard Richter and the Taiwanese performance artist Tehching Hsieh – these two artists couldn't be more different, yet they are united in a certain radicalism and a significance in recent art history. The Neue Nationalgalerie is honoring both with individual exhibitions.
Richter, who pushed painting to its limits yet continued rediscovering it, presents the cycle Birkenau (2014), consisting of four large-format, abstract paintings. These pieces are a long-term loan from the Gerhard Richter Art Foundation. In addition, almost 90 other works by the artist from several creative phases since the 1980s will be on display.
Richter pushed painting to its limits yet continued rediscovering it
Tehching Hsieh didn't do many performances, but those that he did were very, very long: a year long, to be exact. With his one-year performances in the late 1970s and early 1980s, he became internationally known and thus created a blueprint for extreme performers like Marina Abramovic. The film and photo installation "One Year Performance 1980-1981 (Time Clock Piece)" shows Hsieh's documentation of the performance, in which he spent a year punching a time clock every hour. The associated sleep and exercise deprivation put him in a kind of delirium, so you will notice that he couldn't successfully photograph every hour – but we'll still give him full marks.
Neue National Gallery Potsdamer Str. 50, Tiergarten, Tue–Wed, Fri–Sun 10 a.m.–6 p.m., Thu 10 a.m.–8 p.m., €12/6, Tehching Hsieh: Apr 1–Jul 30 / Gerhard Richter: Apr 1 – until further notice, details
---
Gallery Weekend
When Berliners shake off the winter blues and reemerge from hibernation, Gallery Weekend is waiting for them. Traditionally held on the last weekend in April, the doors are open to leading, smaller galleries. This year there are around 50 galleries involved, and they show work by both established and emerging artists. In addition, numerous museum exhibitions and private collections are opening new exhibitions for Gallery Weekend, so watch for that.
Various galleries planned for Apr 28–Apr 30, info
---
Art year 2023: 48 hours in Neukölln
Berlin used to have the reputation of being a giant playground for adults. Good time and cheap rent made it seem as though everyone ended up making ends meet. With rents rising and free spaces dwindling, the reality looks a little different today, so the motto of this year's art festival, "48 hours in Neukölln", could not be more appropriate: Playground. With Playground, the the festival directors emphasize the interplay between children's games and adult games, and the ways in which we can use play to confront the challenges of these times of crisis. Berlin artists will show their work in project spaces, cafés and bars, but there are also performances, readings and musical events. The festival takes place near the end of June, by which point winter will be a distant memory.
---
Edvard Munch – Magic of the North
Munch's first Berlin exhibition in 1892 was a watershed moment in the history of Berlin modernism. Like many modernist exhibitions of the time, Much's was met with scandal and outrage. His expressive form and colour shocked and divided the art world. With the exhibition "Edvard Munch – Magic of the North", the Berlinische Galerie is looking back to that time, with a special emphasis on Munch's own time living in Berlin. His work also changed the image that Berlin had of the north: no longer a romantic landscape, but rather a psychological landscape, peopled by solitary figures. The exhibition shows around 80 works by Munch, combined with paintings by other artists who shaped the idea of ​​the north in Berlin around 1900, including Walter Leistikow and Akseli Gallen-Kallela.
no longer a romantic landscape, but rather a psychological landscape, peopled by solitary figures
Bonus: more Munch will be available starting November 18th at the Museum Barberini in Potsdam with the exhibition "Munch: Landscape of Life".
Berlinische Galerie Alte Jakobstraße 124-128, Kreuzberg, Wed-Mon 10 a.m.-6 p.m., €10/6, Sep 15, 2023–Jan 22, 2024, details
---
Berlin Art Week 2023
Berlin art's biggest week. If you want to see the best of the city's art scene, this is where to go. The Berlin Art Week ushers the Fall season of art with a huge amount of exhibitions and events – it's actually impossible to see everything in four days. Fortunately, most exhibitions extend beyond Art Week. In addition, the most remarkable project spaces, off-spaces and artist initiatives will again be honoured this year. The programme will be published in late summer.
Various locations planned for Sep 13–17, info
---
Check out our detailed list of exhibitions here, and see what's going on in February here