Lakes and their beaches – some natural, some not – are an integral part of the Berlin summer. So what are the best sandy spots in the city (or out in Brandenburg) that you should know about?
Beach at Krumme Lanke
As anyone who's been here during summer will know, Krumme Lanke is no longer an insider tip for swimming in Berlin. The small lake sits on the edge of Grunewald and boasts very good water quality and unspoiled nature, meaning hordes of Berliner descend on its shores on warm summer days. A few minutes' walk in the direction of the Krumme Lanke U-Bahn station, however, you'll find a second beach that is smaller, shadier and more secluded.
Badestrand Krumme Lanke How to get there: Krumme Lanke S-Bahn station
Beaches on the Havel
The river Havel takes in several beautiful beaches as it flows through Berlin and Brandenburg. A few kilometres from Strandbad Wannsee is Lieper Bucht, which offers bathing spots and two beautiful beaches far from the hustle and bustle. The sandy beaches have a shallow shore entrance, ideal for swimming; the bottom is covered with shells and pebbles.
The Kuhhorn bathing area, also on the Havel, is still a real insider tip. Tucked away in Grunewald forest next to the large sandy beach, are sandy bathing bays with clear waters right to the shore. You can always find a cool spot in the dappled shade and passing boats create a pleasant swell, making for fun swimming.
Finally, the beach at Grillendamm sits on Brandenburg's Beetzsee. The large, wide beach leads gently into the water and is perfect for family outings. With your feet in the soft sand, you can spend relaxing summer days here. There's even a beach volleyball court, a barbecue area, parking facilities, a playground for the little ones, a snack bar and good places to park your bike or car.
Lieper Bucht
Address: Havelchaussee 2, Zehlendorf
How to get there: Grunewaldturm bus stop
Badestelle Kuhhorn
Address: Havelchaussee 61, Zehlendorf
How to get there: Grunewaldturm bus stop
Beach at Grillendamm
How to get there: Brandenburg railway station (ZOB)
bus stop Brandenburg / Grillendamm
The Pfaueninsel bathing area on Wannsee is an idyllic spot; think white sand and a great view of Teufelsberg opposite, as well as an epic sunset vista. The beach is very clean and also offers many shady spots. If it's open, the Wannsee lido is always a great place to spend a beach day.
Pfaueninsel bathing area
Address: Uferpromenade, Zehlendorf
How to get there: U-Bhf. Krumme Lanke, bus stop Haus der Wannsee-Konferenz
Beaches at Lake Tegel
Tegel has some very picturesque beaches, too. One of the sandy strips around Lake Tegel which invite you to set up camp, is the Saatwinkel beach with fine sand and a separate swimming area. It can get crowded with families in summer, but at least the noise from Tegel Airport is no longer a nuisance.
The Reiswerder bathing area is only a few minutes away, too. In addition to the sandy beach, there are many small, sandy bathing bays where the water is shallow. The view of Lake Tegel is breathtaking. There is also a designated swimming area and the beach is perfect for the little ones to build sandcastles.
Meanwhile, the (confusingly similarly named) Reihenwerder Strand sits on the other side of Tegeler See, on the western shore. The beach is beautiful, but you have to walk almost three kilometres through the forest to get to it. For this reason, we wouldn't recommend bringing the kids along – though this beach is ideal for a romantic picnic.
Badestelle Saatwinkel
Address: Im Saatwinkel 65, Spandau
How to get there: U-Bhf. Haselhorst, bus stop
Reiswerder Strand
Address: Bernauer Str. 160, Tegel
How to get there: From Haselhorst underground station, bus stop Weg nach Reiswerder.
Badestelle Reiherwerder
Address: Schwarzer Weg 69, Tegel
Arrival: U-Bhf. Alt-Tegel, bus stop Mühlenweg
Beaches around Müggelsee
Why would you go to all the way to Rahnsdorf or Friedrichshagen in summer? For some of the most beautiful beaches in Berlin! Swim in Müggelsee and set up camp at the 500-metre-long sandy beach at Friedrichshagen lido. Outside the lido, Müggelsee is surrounded by beautiful beaches that give a real holiday vibe.
If you prefer something a little more private, head to the small but pleasant beach Surferwiese, which is not far from the lido. The place is wonderful for sunbathing and the surrounding trees also provide shade for a ball game or snooze on sweltering days. On the north-western side of the lake is the Teppich bathing area, a beautiful beach at which there's always space even in high summer.
Seeking a hidden bathing spot with a beachy feel? Walk along the western and southwestern shores of Großer Müggelsee. Between Friedrichshagen and the Rübezahl Biergarten there are many cosy stretches of shore. After sunbathing, you can take a leisurely stroll to the beer garden, which offers food and drinks as well as a nice playground for children when the pub is open.
Last but not least, there's the beautiful beach on the southern shore of Kleiner Müggelsee, which is easy to reach by public transport but also wonderful by bike. The soft sand and the cosy location next to the forest make this small cove a real treat.
Strand Surferwiese
How to get there: S-Bhf. Friedrichshagen, bus stop Fürstenwalder Damm
Badestelle Teppich
Address: Müggelschlößchenweg 1, Köpenick
Arrival: S-Bhf. Schöneweide, bus stop Müggelschlößchenweg,
Strand am Kleinen Müggelsee
Address: Hinter der Düne 8, Köpenick
How to get there: S-Bhf. Köpenick, bus stop Odernheimer Str.
White beach at Flakensee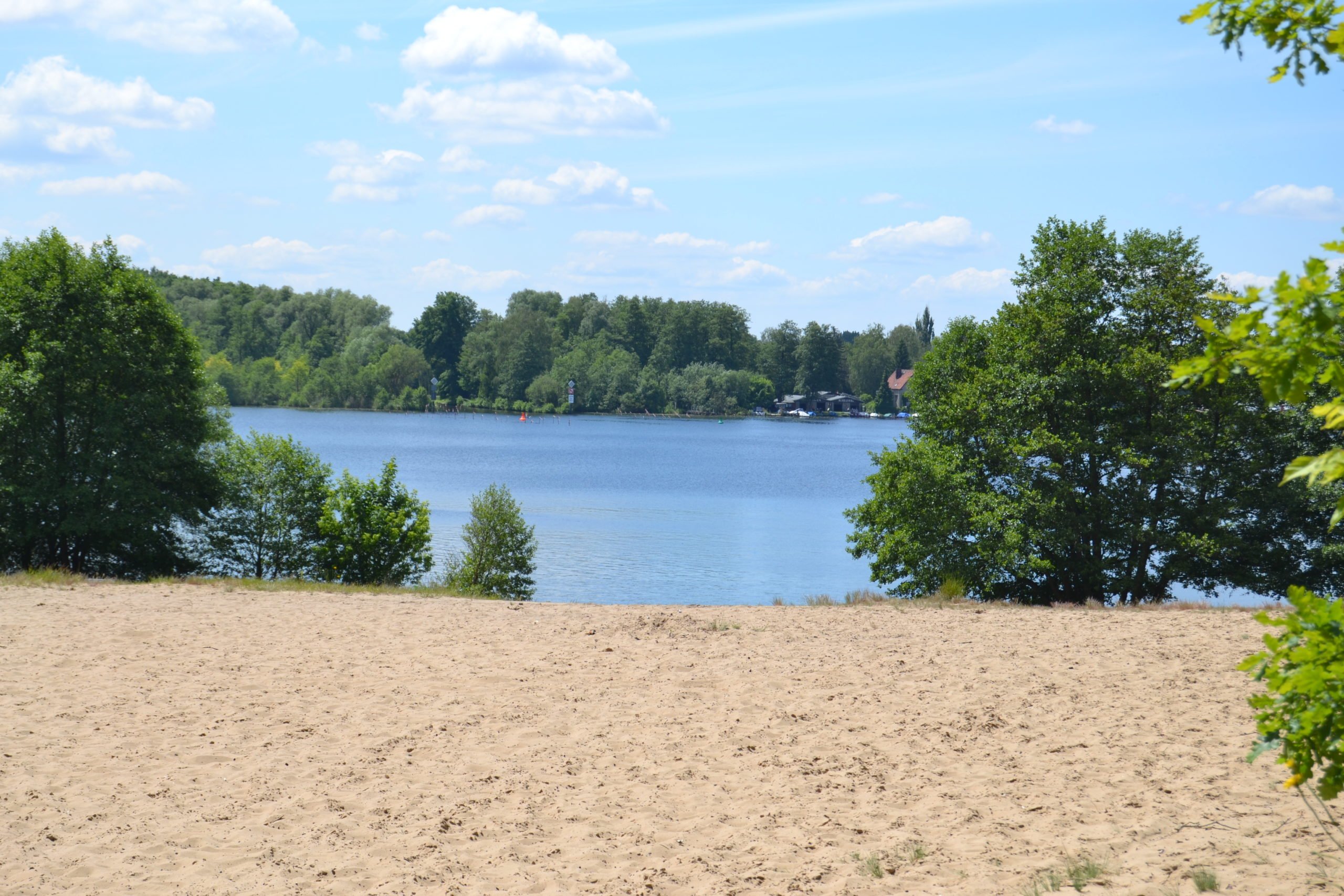 Flakensee in Erkner is a cosy lake surrounded by pine trees and measuring seven metres at its deepest point. On the southeastern shore of the lake is a white sand beach like a small bay – perfect for a beach day with children. The water along the shore is very shallow for a long time, and tree branches provide plenty of shade. Next to the sandy beach is a camping site, in front of whose entrance you can park for free. There's also a small snack bar there to provide you with fuel during your day at the beach.
Weißer Strand am Flakensee
Address: at the Flakensee campsite, Fangschleusenstraße 40, Woltersdorf
How to get there: from Erkner S-Bahn station, bus stop Woltersdorf (LOS) Schleuse