You smell it before you see it. That's right, we are entering Berlin barbecue season.
Being a non-native German in Berlin feels all the more obvious when faced with the concept of angrillen. This very specific verb refers to the first barbecue of the year, which is arguably more a state of mind for most Germans. It heralds the beginning of summer, although some Berliners get a little too excited and the first one will take place on a deceivingly cold day in late April.
Here are some of the best spots for grilling in Berlin for the warmer months.
Goslarer Ufer
Between the old Charlottenburg gasworks and the Verbindungskanal is a spot where you can grill on Goslarer Ufer. The barbecue areas in Charlottenburg are among the last hidden nooks in the middle of the city. Although you might have to share the space with some screeching children, at least it doesn't get too crowded here.
Goslarer Ufer, Charlottenburg.
Landschaftspark Johannisthal
The Johannisthal Landscape Park in Treptow is another insider spot for barbecuing in Berlin. What used to be Germany's first airfield is now a pleasantly secluded place to set up camp and cook up a storm. The park is divided into zones: there's a nature reserve of around 26 hectares in the middle, which is surrounded by a two-kilometre-long promenade path. You certainly won't be rubbing shoulders with fellow barbecuers in this park.
Landschaftspark Johannistal, Treptow, entrance on Hermann-Dorner-Allee, Walter-Huth-Str.
Mauerpark
Mauerpark: Berlin's outdoor living room. Slap bang between Brunnenviertel and Prenzlauer Berg, it is always busy, even during the week. And when the weather is nice, it smells temptingly of grilled meat; particularly good meat too with Berlin's best butchers just around the corner. However, this park comes with more rules than the entrance to the Auslanderbehörde.
Barbecuing is not allowed in the new part of the park, nor on the slope or Falkplatz, but only on the large meadow, opposite the amphitheatre. You can grill all year round between 12pm and 8pm and until 9pm in the summer months (June to August).
Mauerpark Eberswalder, Prenzlauer Berg, details.
Rudolf-Mosse-Platz
This Platz in Wilmersdorf is only a small playground and a football field but is big enough to fit in some Grillplätze. There is a designated barbecue area, but because of repeated vandalism, the built-in barbecues are no longer repaired by the Bezirkamt. So you have to bring your own. The park has some lovely lawn space, so after eating too many Würste, you can take a pleasant nap.
Grillplatz Rudolf-Mosse-Platz, Mecklenburgische Str., Wilmersdorf.
Schlesischer Busch
Schlesischer Busch flanks the nightlife mile between Schlesisches Tor and Elsenbrücke. In case you fancy something different to Arena, Freischwimmer or Club der Visionäre in the area, you can set up your barbecue in this green space. Only in the designated areas though.
Things can get a little crowded when the weather is nice but if you're looking for something to do post-barbecue then Kreuzberg's bars and clubs are only a short walk away.
Schlesischer Busch, Treptow.
Volkspark Friedrichshain
Berlin's oldest park, Volkspark Friedrichshain does allow barbecuing, but in typical German style, only if you book an appointment. Together with the Friedrichshain-Kreuzberg Park Department, this initiative was developed to allow barbecues in the park and protect green spaces at the same time. You can get a deposit stamp for 20 euros and your show identity card at Café Neuer Hain (at the entrance to Danziger Straße), which gives you permission to set up your barbecue at one of the 30 sites.
For those of you that like to improvise, both disposable barbecues or digging your own are prohibited.
Volkspark Friedrichshain, Friedrichshain, details.
Tempelhofer Feld
Tempelhofer Feld, one of the old West Berlin airports, is now the biggest open space in the city. The 300-hectare field is the epitome of freedom for city dwellers, so it is fitting that there are also three official barbecue areas here too. They are all at the various entrances to the park: Oderstraße, Columbiadamm and Tempelhofer Damm.
Ground barbecues are prohibited, and barbecues can only be made with coal, not gas.
Tempelhofer Feld Eingänge: Tempelhofer Damm, Oderstr., Columbiadamm, Tempelhof/Neukölln.
Landmarke
Landmarke is admittedly at the very edge of Berlin, at Hagenower Ring in the Lichtenberg district of Neu-Hohenschönhausen. The barbecue area definitely benefits from the extra space, amidst fruit trees and extensive green spaces. It's a great place for a little weekend trip, especially for families, as there is an adventure playground right next to the barbecue area.
Görlitzer Park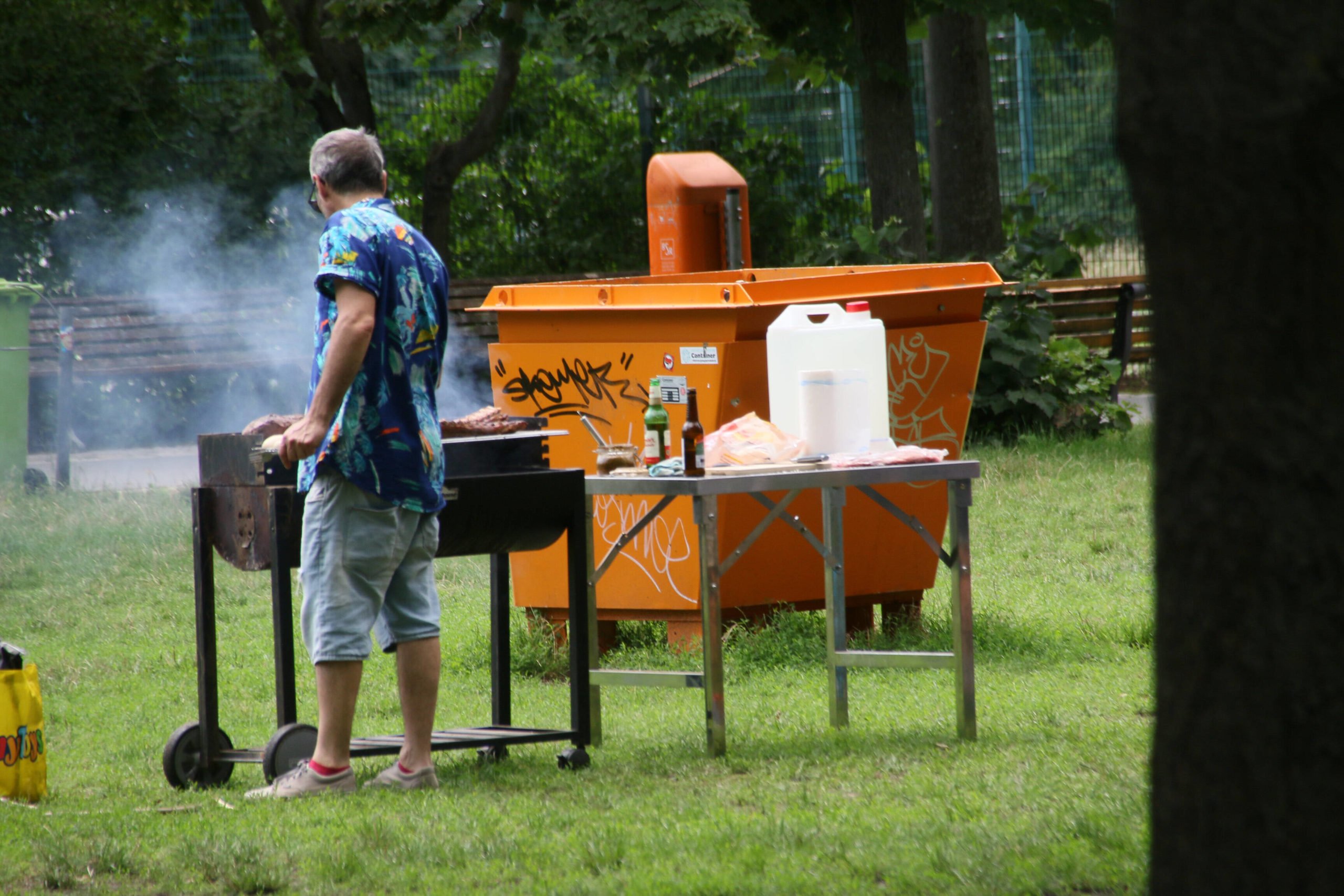 Görlitzer Park's got a reputation for many things, but it's also a place where you can barbecue. There are two designated areas, one on Cuvrystraße and the other on the corner of Sorauer Straße. Unfortunately, barbecuers at Görli do not tend to take cleanliness very seriously. Those who set up here and later dismantle their barbecue should set a good example.
Görlitzer Park, Kreuzberg.
Monbijoupark
Every year we are amazed (and delighted) to find that barbecues are still allowed in the middle of Mitte. However, like almost everywhere else, barbecuing is only allowed in a separate small signposted area. Monbijoupark offers a great view of Museum Island and you can catch some beautiful sunsets. But take note, barbecuing may be prohibited during prolonged dry spells.
Blücherplatz
Set up your barbecue on Blücherplatz in the heart of Kreuzberg. On the lawn between Waterlooufer and Zossener Straße, you'll have a beautiful view of the water. If you can't find a free spot here on a hot day, rest assured – the barbecue area in Görlitzer Park is only about ten minutes away by bike.
Thaipark
Most people probably know Preußenpark in Wilmersdorf as Thai Park. It's one of the oldest parks in Berlin and also the largest Thai street food market in Germany. In the mid 90's many Thai, Vietnamese, Filipino and other Asian families moved to Germany. Preußenpark became a place where these communities would come together and cook, eventually transforming into today's market.
Barbecuing is also allowed in the park, although it might seem a little silly with so much delicious food already on offer.
Preußenpark, Wilmersdorf.