Berlin has a lot to offer, but sometimes you just need a break from the breakneck pace of urban life, and an afternoon at the park or by the water isn't always enough.
Luckily, the area surrounding the city provides plenty of opportunities for day trips and weekend getaways, whether you're looking to unwind in nature or experience local culture. So sit back, relax, and read over our list of insider tips for where to spend your next minibreak. You're worth it!
Schorfheide-Chorin Biosphere Reserve
North of the city lies what some Berliners consider the region's equivalent to Yellowstone National Park in the U.S.: The Schorfheide-Chorin Biosphere Reserve. Virtually untouched, the more than 300 acre area is home to murky marshlands, deep valleys, breathtaking lakes, and vast forests that take up about half of the reserve. One of them is known as the age-old Buchenwald Grumsin – a certified world heritage site.
To see this one of a kind natural landscape for yourself, we recommend taking a bike. If you split the journey between two days, not only does it reduce your travel time to roughly two hours a day, but it also gives you the opportunity to spend the night in Biesenthal and admire the beautiful Biesenthaler Becken – another scenic natural landscape.
Donkey day trips
Want a furry friend to come with you on your hike? Those looking to tour the beautiful Schorfeide-Chorin reserve have the chance to take along some unlikely companions on their trip: Donkeys. Though they're known for being unpredictably stubborn, they make for good company on long hikes – and not just because they can carry your bags.
Bike tour through Naturpark Hoher Fläming
In addition to beautiful castles such as Schmerwitz and Wiesburg, Naturpark Hoher Fläming boasts a 20km international art hiking trail. It also surrounds the resort town Bad Belzig, where visitors can take a relaxing dip in a thermal salt bath or a tour of the 13th-century mediaeval castle Eisenhardt. It's the perfect place for a weekend getaway.
Our recommended bike route will lead you right through the town, with a travel time of two and a half hours on the first day and three and a half hours on the second. At the half-way point in Werder (Havel), there are plenty of hotels and inns to spend the night at, including the lovely Pension zum Birnbaum.
Snacking and backpacking through Bad Saarow
Pack your swimsuit, but leave your snacks at home, because the rich natural landscape is home to beautiful forests and lakes as well as some of the tastiest cheese, crackers, and fresh bread in the region. Here's a possible itinerary to help you make the most of your trip:
Day 1
Coming from Bad Saarow, pack for a picnic with goodies from farm shop Marienhöhe before hiking the path through forests and fields to the outskirts of Storkow. A slice of desert in the middle of a pine forest, the Waltersberge inland dune rises about 36 metres high amongst the trees of the Kiefernwald. End the first leg of your trip with a dip in the Greater Storkower Lake.
Day 2
The second leg of the trip is a hike from Wendisch Rietz along the chain of lakes to the South. With plenty of bathing spots and lots of shade from the Kiefernwald, this route is especially good for a midsummer getaway.
Wander from the Greater Glubigsee to the Springsee, then head South through villages and meadows until you reach the sandy beaches of the Godnasee. Head back North via the Grubensee with its cosy campsite. While the nearby Melangsee isn't swimmable, the Southern tip of the Springsee is a popular destination for a refreshing dip.
Bad-Saarow – Wendisch Rietz – Godnasee Day 1: Route 23km (along the 66-lake hiking trail). Arrival: RE1 + RE 35 to Bad Saarow; Day 2: 26km. Arrival: regular bus connections Bad Saarow – Wendisch Rietz.
Prignitz: Reserve and spa
Combine immersion in nature with some good old-fashioned pampering in Prignitz, whether you're on a day trip or a full-on minibreak.
Day 1
This massive nature reserve is home to vibrant flora and fauna of a diverse range of shapes, sizes, and species. Fire-bellied toads, otters, beavers, storks, white-tailed eagles, geese, cranes, swans, and more all call this luscious landscape home – and you can watch livestreams of faculty nurturing their young at the visitor's centre. Spend the night in a spacious room with a view at the lovely castle-hotel Rühstädt.
Visitor's Centre Rühstädt Neuhausstr. 9, Rühstädt, details.
Schlosshotel Rühstädt Am Schloss 3, Rühstädt, details.
Day 2
On the second day of your trip, treat your mind and body to a spa day in Kristalltherme Bad Wilsnack. Enjoy relaxing thermal baths with up to 12% salt content, hamam, salt steam baths, and different types of saunas from eucalyptus to hay. The half-covered, 32-degree salt lake (24% salt content) is also perfect for floating under the sun and letting all your worries drift away.
Kristalltherme Bad Wilsnack Am Kähling 1, Bad Wilsnack, details.
Glamping in Biohof Ihlow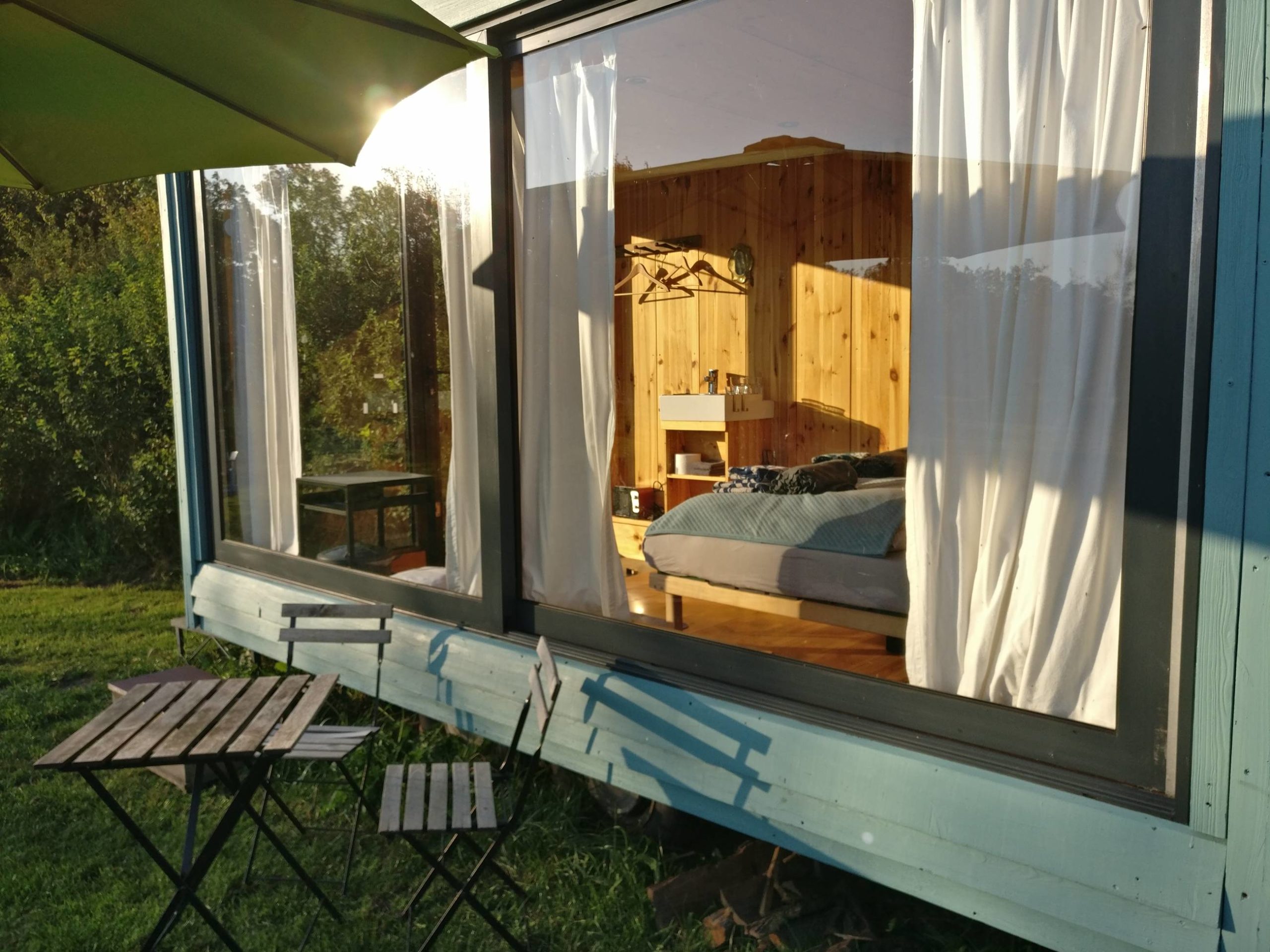 Want to enjoy the beauty of nature without all the hassle of camping? Surrounded by the meadows, fields, and pretty ponds in Märkische Schweiz, Biohof Ihlow is a little slice of paradise.
With a cafe restaurant serving fresh organic foods and a farm shop stocked with regional products, you can spend days in this idyllic plot of farmland, whether you opt to stay in a contemporary yet cosy cabin or you want to camp in a tent fit for a king. Either way, you'll be able to take in some refreshing country air and beautiful natural landscapes in comfort and style.
Biohof Ihlow Ihlower Ring 14, details.
Family field trip to Gut Tornow
A few days at an ecofarm with a friendly innkeeper-family, surrounded by nature and cute barnyard animals? Sounds like the perfect family minibreak! Take field trips by bike or by horse (just remember to be back in time for an evening barbecue) and spend the night in a quaint vacation house on the property. There's also a park with a huge vegetable garden and plenty of fruit trees to explore!
Gut Tornow Tornower Str. 24, Wusterhausen/Dosse, details.
Kayaking through the Spreewald
Whether just for two hours or a whole week, Bootshaus am Leinweber offers kayak tours through the Spreewald. Not only will you be able to immerse yourself in the vibrant wilderness, you'll also be able to take along a picnic basket courtesy of the Bootshaus. The route also leads past plenty of restaurants to choose from should you need a pause from all the paddling.
Bootshaus am Leinweber Hauptstr. 1, 03096 Burg (Spreewald), details.
Regal respite at Castle Boitzenburg
Between Lychen and Prenzlau lies the former seat of the von Arnim family and the biggest castle in Brandenburg: Castle Boitzenburg. From 1838 to 1842, Friedrich August Stüler renovated the castle, with one of its many parks being designed by Peter Joseph Lenné.
Now, the building functions as a family hotel with an expansive terrace, delicious food, and rooms fit for royalty. Between March and December, you can go on tours of the grounds. And not too far away, the ruins of an old cistercian monastery and a 13th-century water mill with a museum also constitute worthy field trip destinations.
Schloss Boitzenburg Templiner Str. 13, Boitzenburger Land, details.
Rustic charm in Lido Senftenberg
Did you know that Europe's largest log house is nestled between a castle and lake in Lausitz? Surprising, but true: With its thick logs of arctic pine, you'd be forgiven for thinking you'd landed somewhere in Finland rather than Brandenburg. And with hospitable faculty, generously sized rooms, and even a brewery guests can watch in action, it's the perfect destination for a rustic holiday.
By the way, the beer isn't just for drinking – you can bathe in it, too. Not only is it said to be relaxing, but it can also supposedly help with rheumatism, gout, and circulatory issues. But even if that's a myth, how many of us can honestly say we've taken a bath in a vat of beer?
Lido Senftenberg, Steindamm 26, Senftenberg, details.
Culture in Cottbus
Day 1
Now one of the most popular day trip destinations in Spree-Neisse, the castle in Branitz used to be the permanent residence of Prince Hermann von Pückler-Muskau. He designed the attached park with a beautifully landscaped 19th-century garden, which includes the now-famous Pyramidensee and the prince's burial site. In addition to the Pückler Museum, the grounds are also home to a memorial for Cottbus landscape painter Carl Blechen.
Fürst-Pückler-Museum Robinienweg 5, Cottbus, details.
Day 2
For the next leg of your minibreak in Cottbus, we recommend checking out the Brandenburg Museum for Modern Art. With three exhibition buildings featuring art from the DDR as well as from Polish artists, visitors can expect a rich collection of photography, painting, design, and sculpture.
Dieselkraftwerk – Brandenburgisches Landesmuseum für moderne Kunst Uferstr. 15, Am Amtsteich, Cottbus, details.
Design in Dessau
The Bauhaus is recognised worldwide as the birthplace of the avant garde of Modernism in art and architecture. Berlin itself is home to quite a few examples of this style, but Dessau is the real mecca for Bauhaus enthusiasts.
And it makes for an interesting excursion for those who haven't quite reached that level of expertise yet, too: A visit to the Törten estate on the Mulde River in southeast Dessau and the Kornhaus on the Elbe River in the Ziebigk district offers a comprehensive impression of Bauhaus architecture.
But if you want to learn more, a trip to the Bauhaus Museum is always worthwhile. Among the style's most well-known proponents were Walter Gropius, Ludwig Mies van der Rohe and Friedrich Karl Engemann – all names that are recognised around the world as pioneers of modern architecture to this day.
Dessau is also home to some impressive pre-modern architecture, however, its castles and parks being deemed as UNESCO world heritage sites. And the surrounding floodplain landscapes are the perfect place for a picnic.
Bauhaus Museum Dessau Mies-van-der-Rohe-Platz 1, Dessau-Roßlau, details.
This article has been adapted from the German by Seraina Birdsey.