The grand finale of the annual Eurovision Song Contest is just around the corner. That means only two questions should be on your mind: "Who's taking first place?" and "Where am I going to watch?"
The answer to that first question will have to wait, but as for the second, we've got you covered: Here's our list of the best places to watch live screenings of this year's ESC Final.
AHA Berlin
One of Berlin's oldest LGBTQ+ organisations, the Allgemeine Homosexuelle Arbeitsgemeinschaft (or AHA) is known for its regular Eurovision karaoke nights. It's only natural that they would host a watch party for this year's final! Drag personalities Mimi Milano and Gundel Schlauch will be presenting the event, which will include live voting after the performances.
Bar Saint Jean
Described by the owner as "a simple place with a French touch," Bar Saint Jean is the perfect place to relax with good vibes and good drinks. You can join the mixed crowd of born and bred Berliners and tourists in Mitte for their ESC Final watch party on Saturday. Enjoy a specialty cocktail or pop a bottle of champagne after your favourite performance!
Rauschgold
For a Eurovision screening with a killer after party, head over to Rauschgold. Not only will they be screening the final, they're also throwing a "Grand-Prix-Party" with drag queen Herrin Deluxe after the show. You can't reserve tickets, so be sure to get there in advance! Doors open at 8, and the first to arrive will have the best seats.
Sonntags Club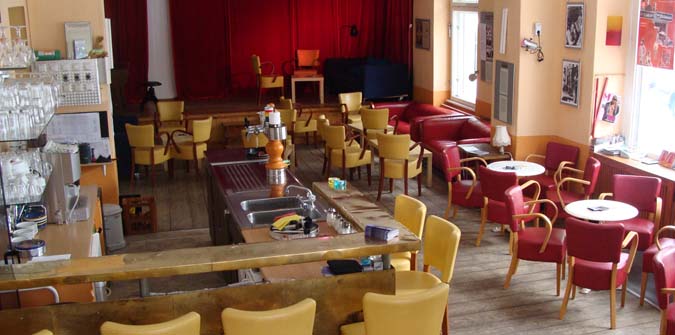 The building that is now home to the Sonntags Club was once a library, but it's about to get loud: The queer café will be hosting a viewing party for the ESC grand finale on Saturday at 9pm. Entry is free, but doors open at 6pm, so get there early to get in the Eurovision spirit with some spirits before the big show!
Revier Südost
Usually a fun spot for live music, DJ-performances, pub quizzes and even Tatort screenings, this weekend Revier Südost will be hosting a ESC Final watch party in their Baergarten, presented by Drag Queen Morgan Wood. Be sure you stick around for the after party, where DJ Aime You will be bringing back disco with a bang! You can reserve both indoor and outdoor seats in advance, but don't worry – they're free.
SchwuZ Queer Club
Bask in the glitz and glam of Eurovision on the big screen at SchwuZ, where drag queens Anna Klatsche and Victoria Bacon will be adding their personal flair to the final through quick-witted commentary. Be sure to stick around for a night of retro revelry after the show!
Corner Späti presents: Gyrovision 2023

Want the fun of a group viewing without having to leave home? The Späti Boys are here for you. Taking a break from "discussions of a deteriorating world all from the comfort of your local smoke-filled Spätkauf", the hosts of Berlin's biggest leftist podcast Corner Späti will be top commentators for the big ESC Final again this year via their twitch livestream.