When it comes to its architecture, Berlin has always been a future-focused city. From 1920s Bauhaus visionaries, through East-West competition over cutting edge design, to the post-unification development boom.
We take a look at the city's most strikingly futuristic buildings – reinforced concrete, steel cubes and all.
Regierungsviertel
The political heart of Berlin beats in the government district, and apparently so does the architectural cutting edge. The most important institutions of the government's legislative and executive branches are located here, so taking a walk through Berlin's government district is perfect for politics geeks and architecture enthusiasts alike.
Regierungsviertel Mitte, Tiergarten
Axel Springer Neubau
The new headquarters of the Axel Springer publishing house might have caused some controversy when construction was completed in 2020, but it's certainly still one of the city's most prominent new buildings. Dutch superstar architect Rem Koolhaas designed the colossal structure with massive tinted glass surfaces and a facade ornamented with 3D elements.
Axel-Springer-Neubau Zimmerstr. 50, Mitte
The Cube
The name says it all. The shiny structure has adorned the southern side of Hauptbahnhof on Washingtonplatz since 2020. Inwardly-folded plates of the luxury office building's facade brilliantly reflect the light bouncing off the Spree. The Cube is futuristic inside and out. The 42-metre-high building has 3800 sensors throughout its offices which allows tenants to adjust the light and temperature of their offices with an app. Looks like digitaliserung is finally here!
The Cube Washingtonplatz 3, Tiergarten
Paul-Löbe-Haus
Just north-east of Tiergarten, the Paul-Löbe-Haus is 60,000 square metres of perfectly symmetrical glass and concrete. Named after the SPD politician, Reichstag president and senior president of the German Bundestag Paul Löbe, Germany's parliament probably wouldn't get anything accomplished without the goings-on here. Not to mention – it looks particularly impressive lit up at night.
Paul-Löbe-Haus Konrad-Adenauer-Str. 1, Tiergarten
The L40
Also known as the "black maze building", the L40 is a residential and commercial building that's known for its controversy as much as its cutting-edge look. Designed by architects Roger Bundschuh and Philipp Baumhauer, this imposing black concrete block towers over the intersection of Linienstraße and Rosa-Luxemburg-Straße.
Wohnhaus L40 Linienstr. 40, Mitte
Neues Kranzler Eck
Since the fall of the Berlin Wall, former West Berlin has gone through some rapid changes. One of the biggest architectural examples of this is Kranzler Eck. Designed by architect Helmut Jahn, its 60-meter high glass facade looms over Kurfürstendamm.
Neues Kranzler Eck Kurfürstendamm 22, Charlottenburg
Berlin Hauptbahnhof
It's not exactly a hidden gem, but as the largest interchange train station in Europe, Berlin Hauptbahnhof has played a major part in the redesign of Berlin's transport network. Aesthetically, it's a big departure (get it?) from the city's earlier, more ornamental train stations. Think of Hauptbahnhof's predecessor, the French Neo-Renaissance style Lehrter Bahnhof, first opened in 1871 and decommissioned after being badly damage by WWII bombing.
Berlin Hauptbahnhof Europaplatz 1, Tiergarten
Luxury condos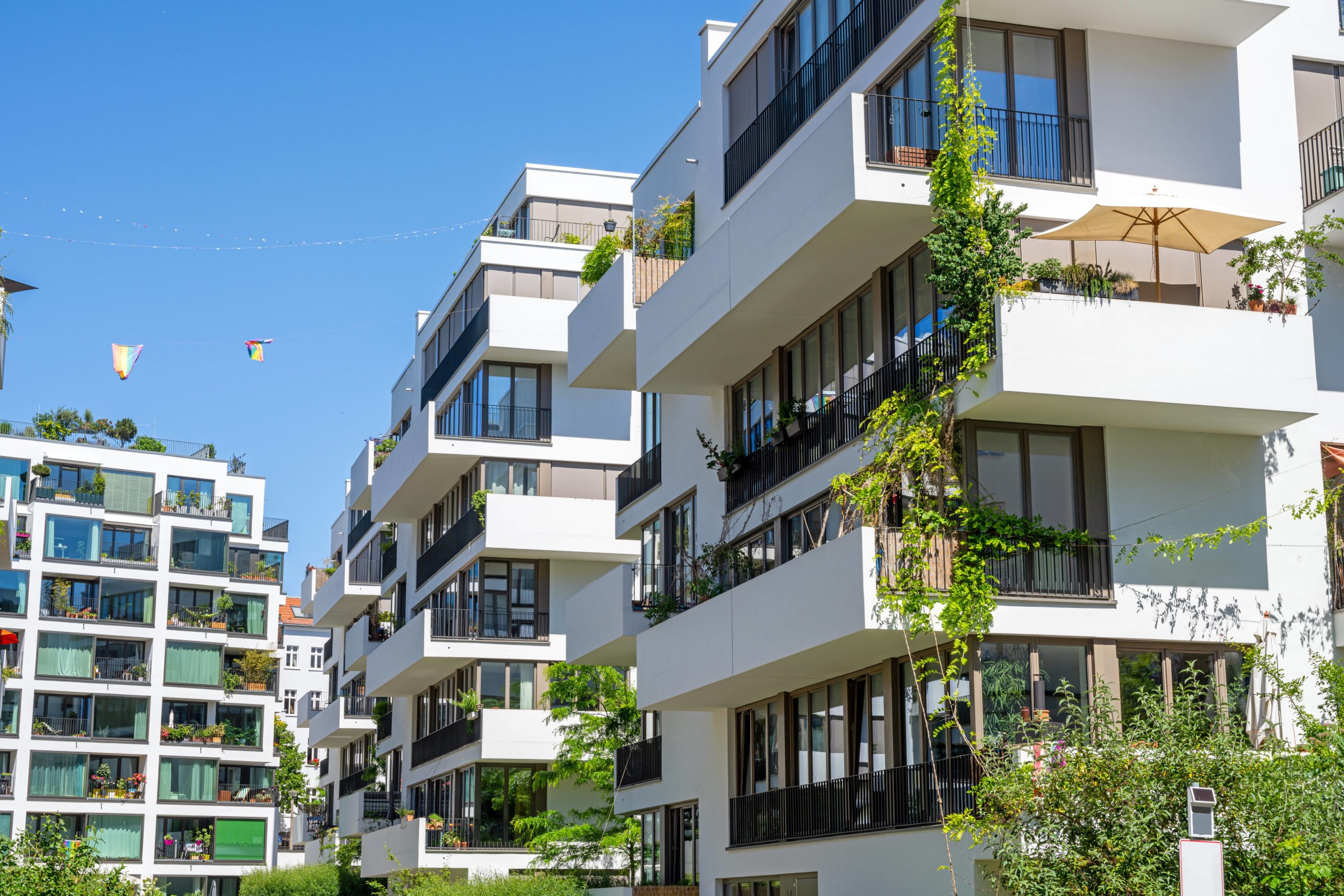 Skyline-defining structures like modern museums, train stations and office towers might characterise contemporary Berlin, but the the visual impact of the city's newer apartment complexes are definitely worth noting. Demand for housing in Berlin is skyrocketing, with fraudster landlords seemingly on every corner. And while you're likely to find yourself queuing on the street just to view a decently-priced alt-bau, modern (and pricey) luxury condos are springing up across the city. If you can afford them, these condos are bringing a new way of life into the city – less kiez, more suburbs.
Throughout Berlin, but Europacity is a good example.
The Sapphire
The Sapphire was designed by superstar American architect Daniel Libeskind, who made a name for himself in Berlin with his striking design for the Jewish Museum. Libeskind's only residential building in Europe, the exterior of the Sapphire is made up of countless asymmetrical titanium and ceramic angles.
The Sapphire, Chausseestr. 43, Mitte.
Apartment complex at Lokdepot 12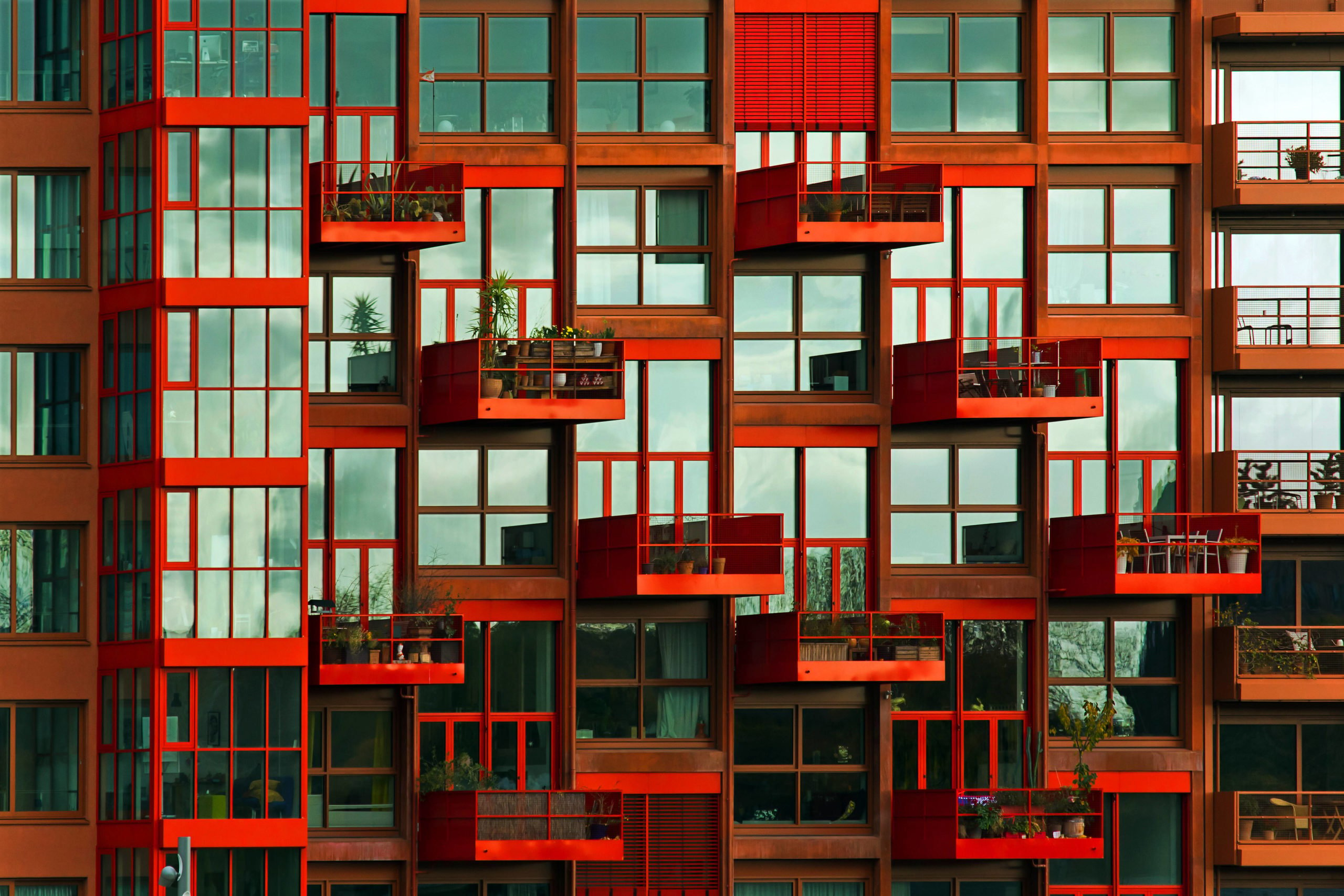 This studio and apartment building at the Lokdepot between Gleisdreieck and Südkreuz has got to be one of the city's most striking. The red reinforced concrete facade of this six-story building is particularly eye-catching when it's hit by the evening sun.
Am Lokdepot 12, Kreuzberg-Schöneberg
Trias Towers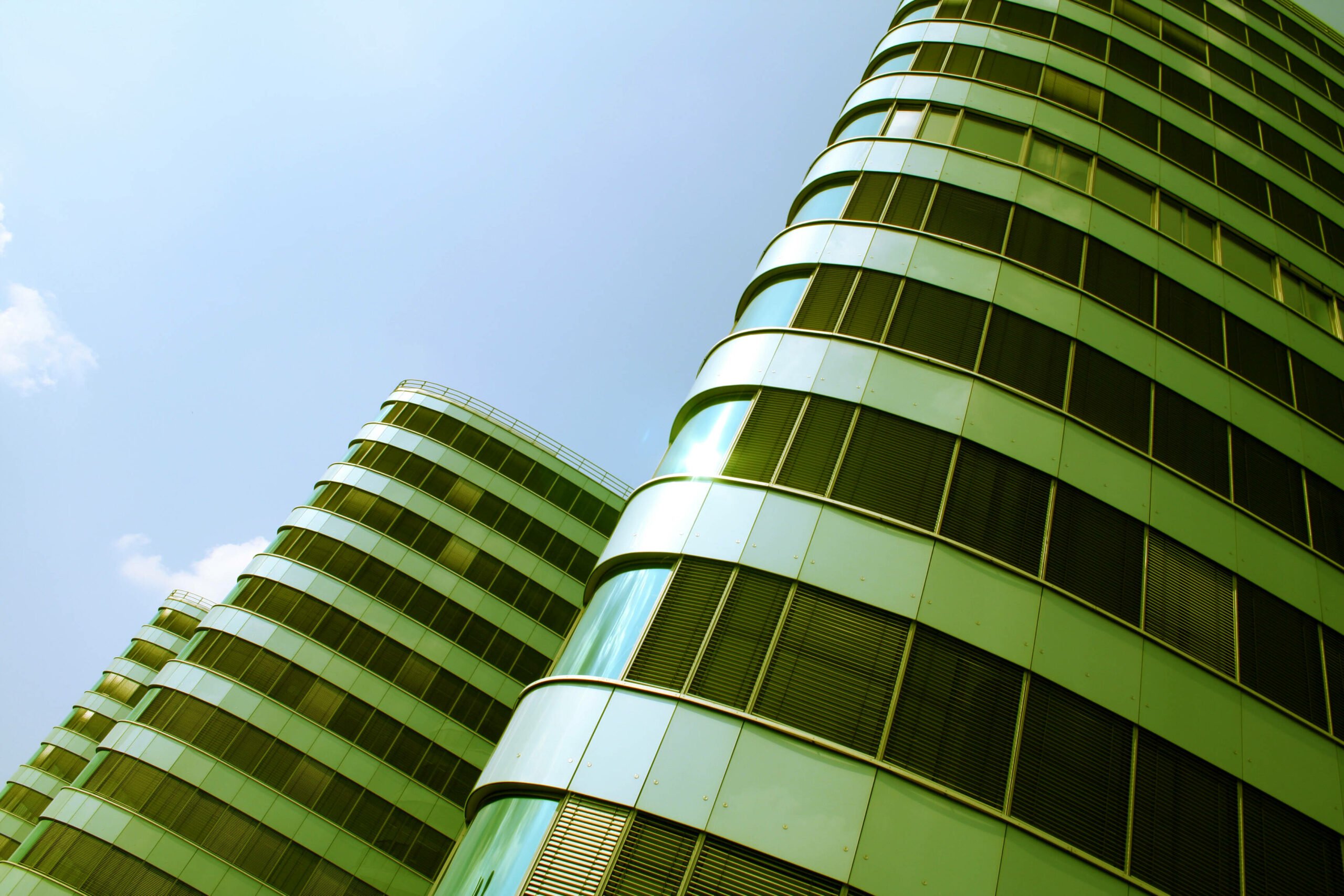 Architects Lucia Beringer and Gunther Wawrik designed this futuristic office building complex on Holzmarktstraße back in the 1990s as a symbolic gateway from former East Berlin to the new city centre. The prominent rounded V-shaped blocks are 13-stories high. What you can't spot from the street are the Trias' rooftop gardens, designed to be a green oasis for residents and visitors alike.
Trias Towers, Holzmarktstr. 15-17, Mitte-Friedrichshain.
Futurium
If any building in Berlin can be described as futuristic, it's got to be the Futurium – and not just because of the name. Since it was built in 2019, the space has hosted exhibitions and discussion panels about life in the future. Designed by Berlin-based architects Richter and Musikowski, Futurium was designed with the reality of future climate change in mind. Solar panels and a rainwater basin on the roof help cover the building's heating and cooling costs.
Futurium, Alexanderufer 2, Mitte.
Adapted from the German version by Sophie Field