On Wednesday March 8th, Berlin will celebrate its fifth International Women's Day as an official holiday. With a day off from work, you're free to experience some of the events and specials that will be on offer across the city: from a large-scale demo through Berlin, to a selection of women-led musical performances and an all-female lineup at Berghain – and more.
International Women's Day demo
March 8th is an important day for demos across the city. The International Women's Day March organised by the Bündnis für sexuelle Selbstbstimmung will be one of the biggest. It starts at 13:00 at Invalidenpark, making its way to Bebelplatz for a closing rally at 15:00.
Invalidenpark, Mitte, 13:00. Click here for more information.
1. FC GRRRLS UNITED at Berghain
Since March 8th is an official holiday in Berlin, many can afford to spend the day at Berghain. As part of the International Women's Day celebrations, the line-up will feature exclusively female and gender-non-conforming artists, like Cuntroaches, Roza Terenzi and Paramida. All genders are welcome and no dress code is required.
Berghain, Am Wriezener Bahnhof, Friedrichshain, March 7, from 22:00, click here for more info.
Head to the Kino
Pop into one of Berlin's many cinemas to watch a female-centred film. Special Women's Day screenings include the documentary Mary Cassatt: Painting the Modern Woman at Zeiss-Großplanetarium, Learning to Skateboard in a Warzone (If you're a girl) at City Kino Wedding and 107 Mothers at Brotfabrik Kino.
Pralinen Music Festival 2023
On the evening before International Women's Day, you can dance the night away at Jenseits von Nelken and Pralinen Festival's eighth consecutive run. The festival is all about raising the visibility of female musicians and the lineup will feature national and international female artists from the rap and hip-hop scenes, whose performances you can watch live on site or via live stream (for free).
Gretchen, Obentrautstr. 19-21, Kreuzberg, 20:00. Onsite tickets for €22, online stream tickets are free, but must be booked in advance. Click here for more information.
Women's Day Artist Talk at HAUNT
HAUNT Gallery will be hosting a talk between the artists Vanja Bućan (Slovenia) and Tanja Ostojić (Serbia). Titled Perspectives on Housework: Women, Identity, and the Invisible Domestic Economy, the dialogue will focus on HAUNT's current exhibition – a series of photo collages called Birds of Paradise. The images were created during the pandemic, when the artist Vanja Bućan, suddenly stuck inside her home, began to reconsider questions around the social constructions of gender, the meaning of motherhood, and the role of women in a household. The event and exhibition are organised and supported by SKICA Berlin (Slovenian Cultural Centre Berlin) as part of the European Month of Photography.
HAUNT (front rooms), Kluckstr. 23 A, yard D. 15:00 – 20:00, free entrance. Get more information here.
Women's Month Festival in Tempelhof-Schöneberg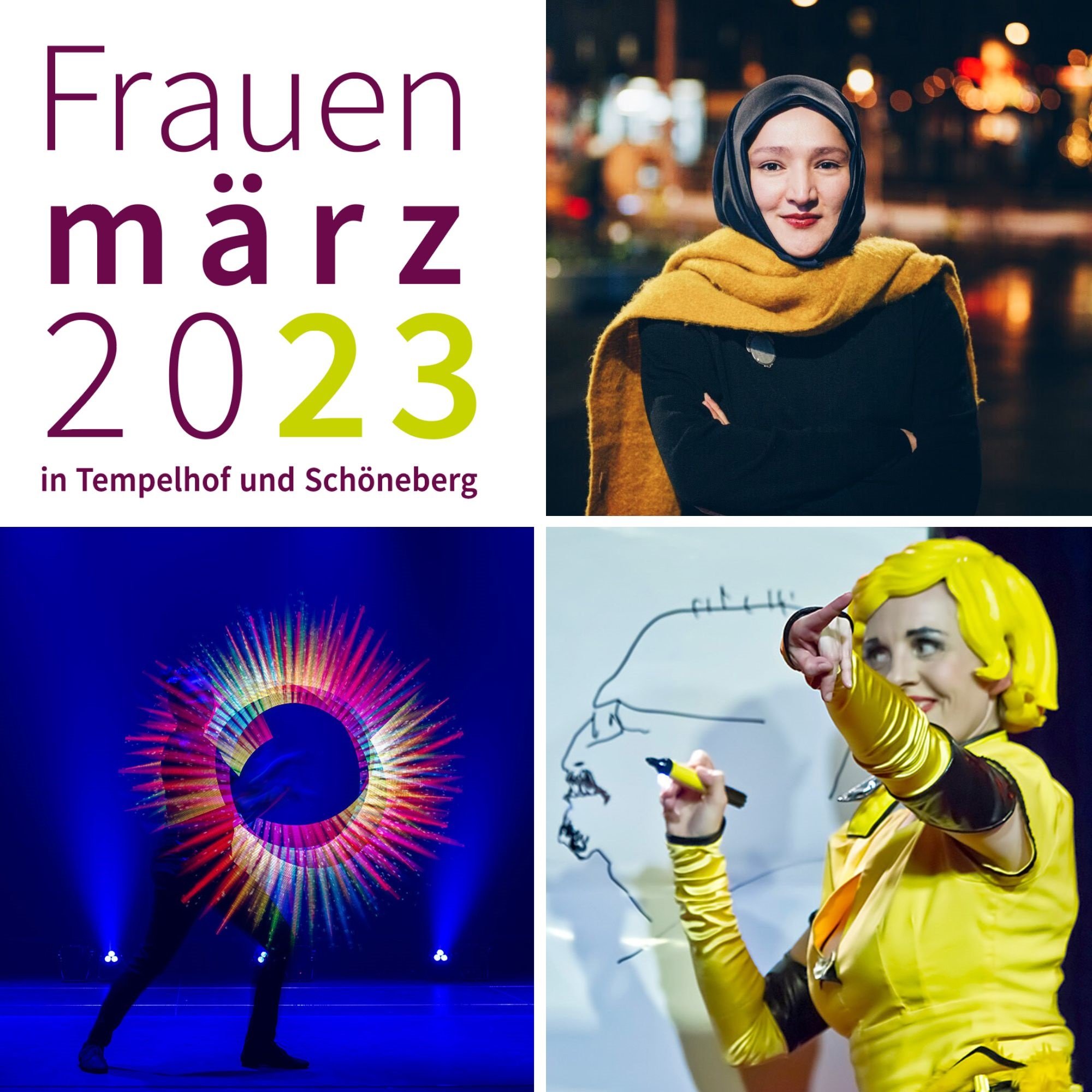 The series of events in Tempelhof-Schöneberg offers an exciting program for the entire month. This year, there will be more than 40 free events with concerts, theatre performances, networking opportunities, consultations, city-tours and much more. The opening event is on Friday March 3rd at 19:00 in the Varieté Salon of the ufaFabrik and the rest of the programme will take place at different venues in the area.
Frauenmärz, various venues across Tempelhof-Schöneberg. Click here for more information.
Strong Voices concert at the UdK
Men are often over-represented in the world of classical music, while the work of women receives less attention. On International Women's Day, the Berliner Cappella, the Neue Konzertorchester Berlin and the Knabenchor Berlin will perform the works of female composers Lili Boulanger and Ethel Smyth. They will also present the Lacrimosa by Witold Lutoslawski as a contrasting piece.
Concert hall at the UdK, Hardenbergstr. 33, Charlottenburg, March 8, 6 p.m., €18-36/erm. €15-33, more info here.
Free martial arts sessions
These free classes are designed to empower women and girls and no prior experience is required. Organised by Chinkilla Studio, the Join Our Fight 2023 campaign is offering courses on kickboxing, Muay Thai, Brazilian Jiu-Jitsu, and self-defense.
Chinkilla, various locations across the city. Classes will be held in German, but English translators will be available to help you along. Click here for more information.