Karneval der Kulturen ('Carnival of Cultures') is one of Berlin's most beloved festivals, and that's saying something. Every Pentecost weekend since 1996, parades of people dressed in colourful tufts of tulle and sparkly sequins fill the streets of Kreuzberg in a celebration of multikulti coexistence. And given how vibrant Berlin fashion is on a normal day, it's no surprise people go all out for KdK – which has made for some pretty incredible photos over the years.
As the festival draws near for the first time since the start of the pandemic, let's take a look back at its history – and some of its most iconic outfits. From FKK to feather (and live) boas, here's almost two decades of KdK in photos.
KdK: Berlin's answer to Rostock-Lichtenhagen
In 1993, Werkstatt der Kulturen ('Workshop of cultures') opened in Neukölln as a meeting point and event location for creatives. Their regular meetings and artistic projects served as inspiration for what would eventually become a multi-day public event in 1996: The first Karneval der Kulturen, a counterpoint to the xenophobic riots in Rostock-Lichtenhagen from a few years prior.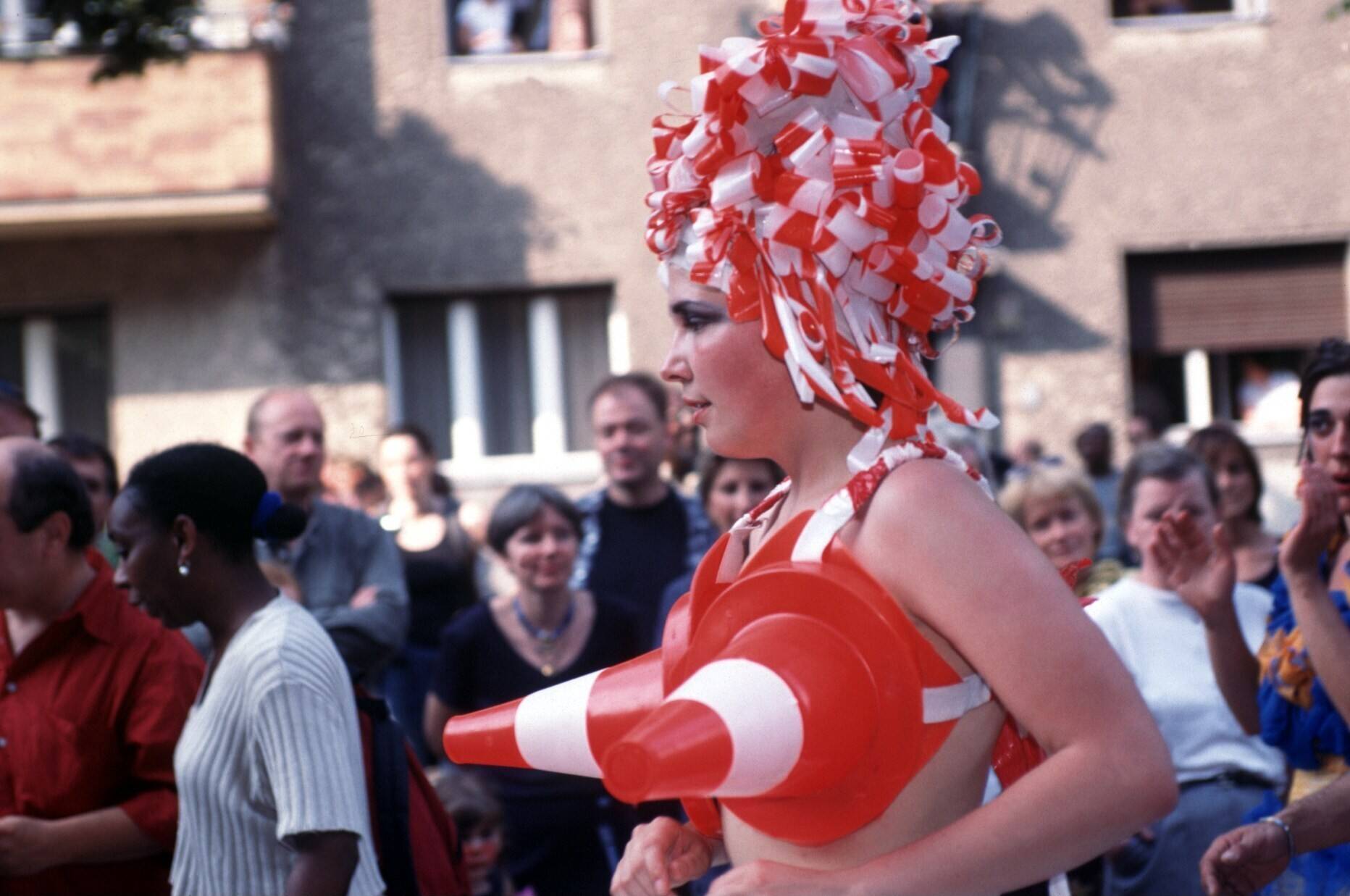 When you consider that it was the festival's first year, the turnout in 1996 was especially impressive. Around 50.000 people showed up to gawk at the delightfully garish parade, a number that rose to a whopping 300.000 in 1997. With KdK getting bigger, organisers added a street fair to the festivities as it became clear that a parade wouldn't be enough to accommodate the city's cultural diversity.
Cultures come together
Still, the parade remains the beating heart of the festival. Cultural associations, school classes, dancers, artist collectives, and music groups happily participate to celebrate Berlin's multikulti populace and to foster a sense of citywide – and worldwide – community.
Meanwhile, the surrounding street fair offers a chance for people to get up close and personal with Berlin's rich cultural tapestry rather than just watching it from afar, with booths and market stalls offering information, activities, and delicious street food and drinks from around the world.
Diverse cultures, diverse dances
One of the most eye-catching elements of the parade – besides the impressive and often insane outfits – is the dancing. In the photo above from 1999, a Dutch dance troupe can be seen skipping down the streets of Kreuzberg in long pleated skirts and iconic wooden clogs as part of the parade.
But before you could say hagelslag, the next float rolled in with high-tempo rhythms, feather headdresses, and traditional Brazilian dance moves. Though there's a world of difference between the two styles, they complement each other in the panoramic parade that is Karneval der Kulturen.
Carnival competition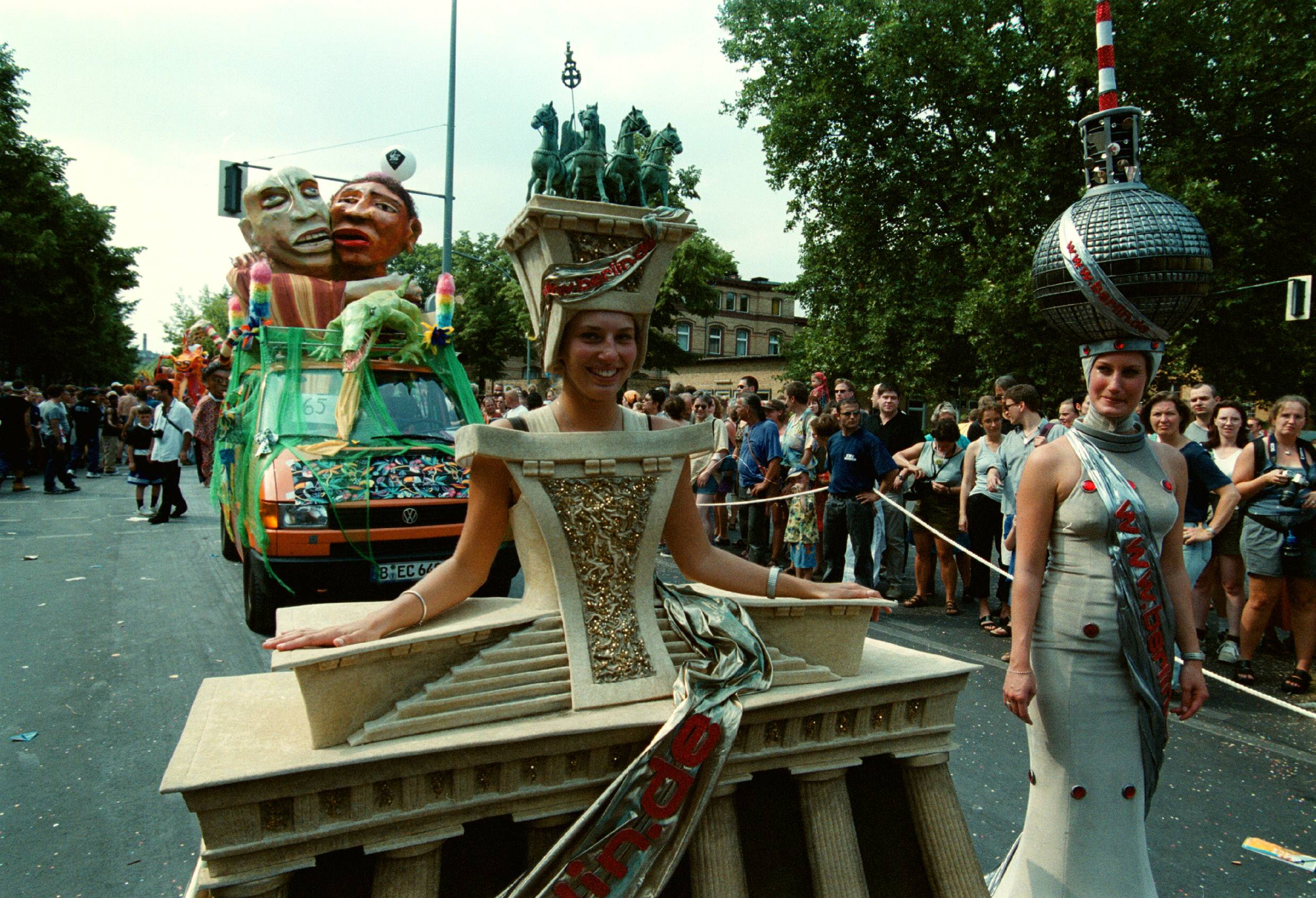 But KdK isn't just about peace and unity (snore) – it's also a competition. After months of preparation, performers in avant-garde outfits that rival Doja Cat's Met Gala looks turn the streets of Kreuzberg into a grand stage.
Groups that have opted to participate in the contest portion of the festival have just 90 seconds to impress a panel of judges with their looks and their moves. The prize? Bragging rights, mostly – but whether they win or not, they put on an unforgettable show.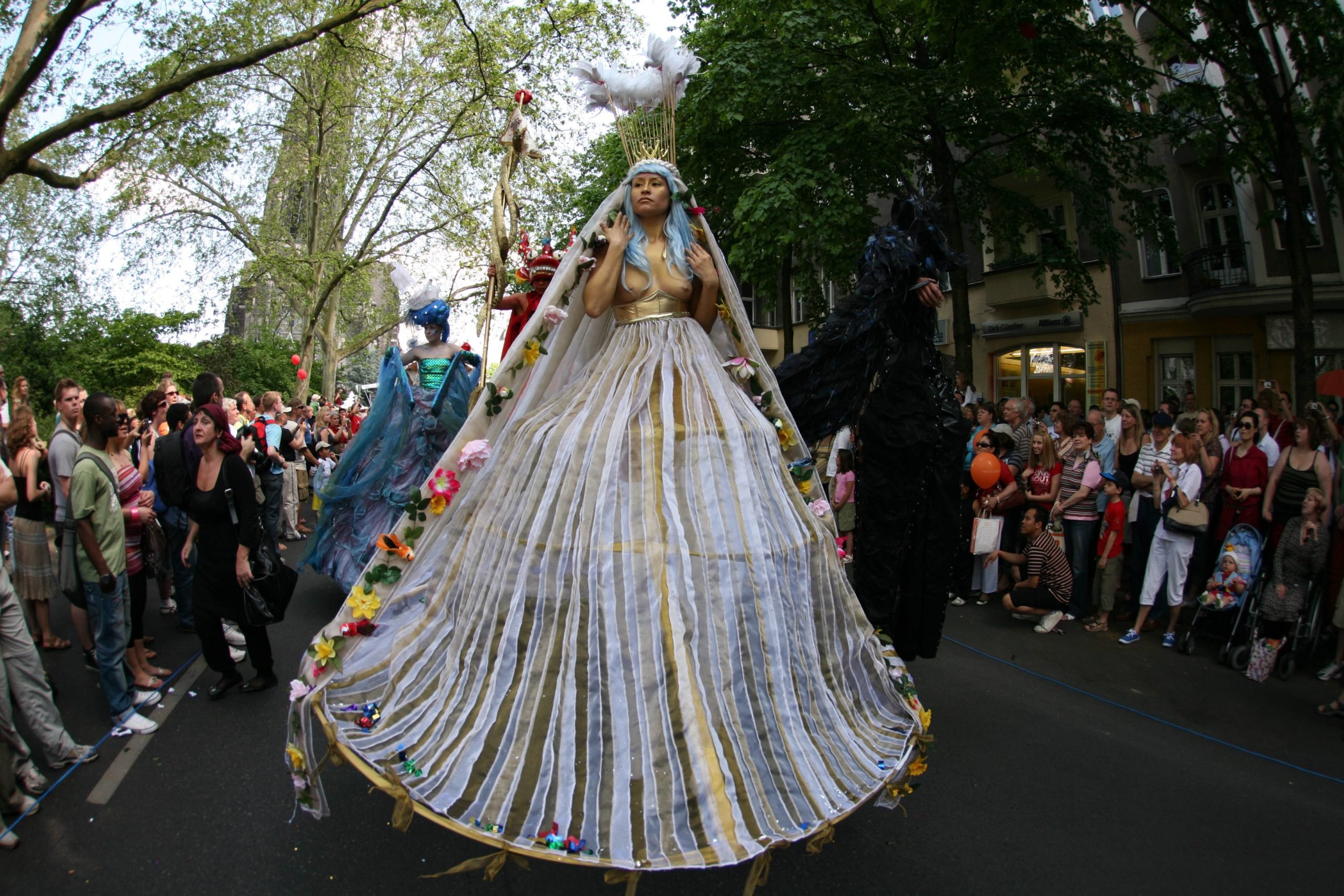 Come as you are
But while seeing people dressed in crazy costumes is par for the course at Karneval der Kulturen, you're just as likely to see plenty of people who aren't wearing much of anything. Celebrating culture, after all, includes Freikörperkultur. And let's be real, you've probably encountered weirder stuff in the streets of Berlin than that on a normal day anyway, so what's the big deal?
Local celebration, global sensation
By 2000, the parade already included over 100 groups representing 70 different cultures. And with the number of attendees rising to more than 1.5 million in 2003, the festival had become a massive platform for intercultural communication between the people of Berlin, reinforcing a socio-political impulse towards enthusiastic coexistence.
Today, KdK isn't just nationally known – it's a global sensation, with international media outlets covering the colourful celebration every year. It's good PR, showing off the city as a young, cosmopolitan, and happy metropolis. And along with events such as Notting Hill Carnival in London and the Rotterdam Zomercarnaval, KdK is helping to forge a new festival tradition in Europe – and encouraging not just tolerance, but appreciation of other cultures in the process.
This article has been adapted from the German by Seraina Birdsey.