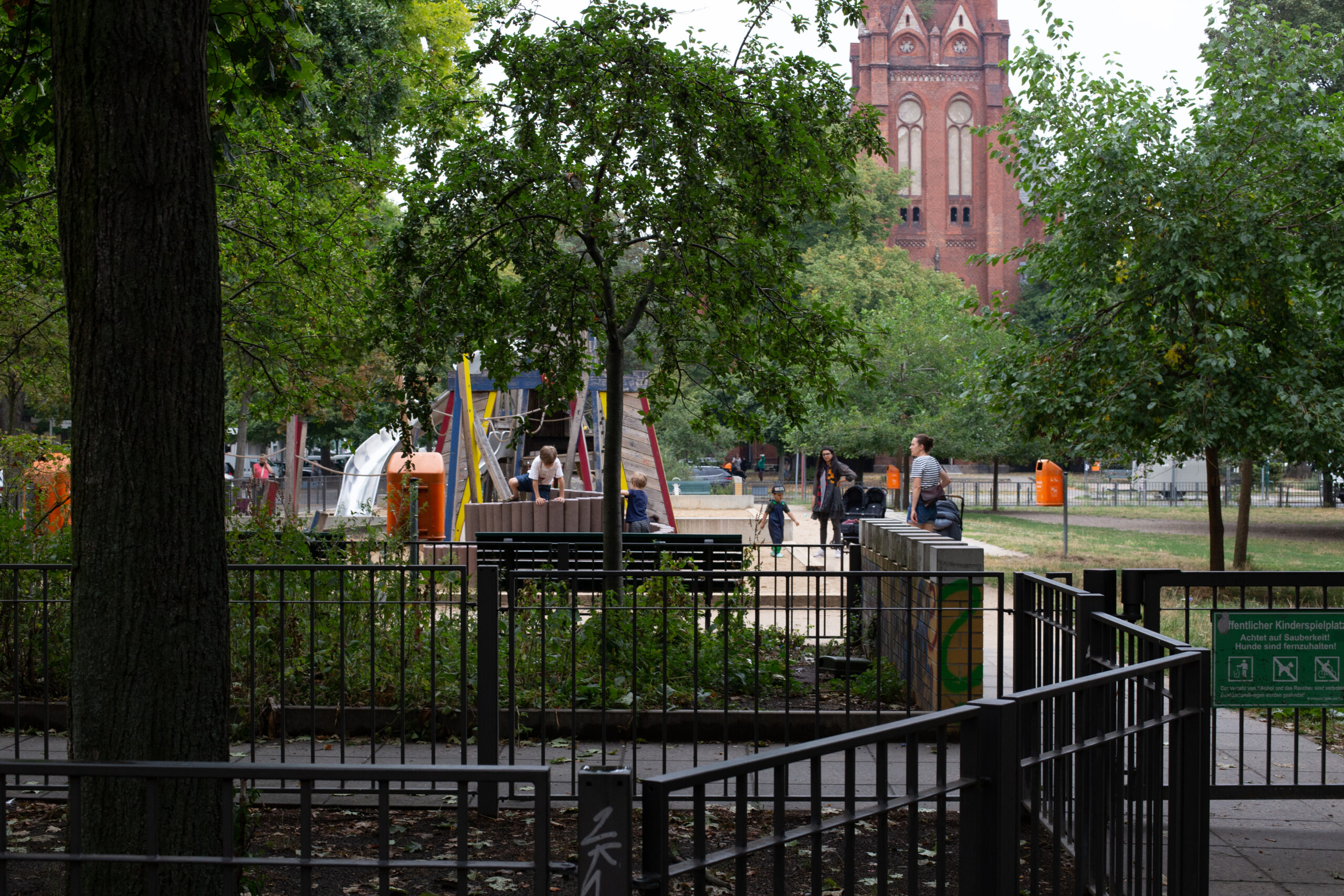 It's a Friday morning on Wedding's Leopoldplatz. At the weekly farmers market, people are selling fresh organic fruits and veggies; there is one stand with a huge assortment of fine cheeses, another with fish.
A woman at the bakery, which offers organic bread and pastries, tells us that this is, in fact, Berlin's oldest Ökomarkt, with vendors coming here for 30 years. As the morning progresses, a colourful mix of residents arrive to do their weekend shopping – old and young, hip and square, young families with stylish strollers.
We always search the sand for needles, used foil or whatnot first, before I let my kids into it…
Just a few metres away, there are several homeless people and heroin addicts passed out on the benches. One doesn't have to look around for long to see another group of junkies gathered beside the Old Nazareth Church. And right there, just behind the church itself, a bunch of kids are playing away in the sandpit of an appealing, colourful playground.
"We always search the sand for needles, used foil or whatnot first, before I let my kids play," says a young mother of two little blonde girls.
Leopoldplatz is one of Berlin's most infamous hotspots for alcoholics and drug addicts. Many in the neighbourhood believe the situation has gotten worse in recent years. "I feel like there are more addicts now," the mother continues, "and they have taken advantage of the chaos of the past few years. They have no boundaries, and it's scary. We have been hoping for a change for the better here for years now, but it's just not coming."
A woman who owns a nearby shop and has lived in the neighbourhood for 50 years, agrees. "It's definitely getting worse," she says. "There has never been so many of them, and in plain view, as now." She indicates that heroin users have been shooting up directly outside the store. "My car was broken into twice, and stolen once," she says. "Did you hear someone was found dead, a few weeks ago? These days I'm too scared to cross the square by myself once night falls. My husband picks me up and walks me home."
Law and disorder
As the locals talk, they look over towards the pissoir next to the playground, where a man is sharing out tin foil to others who are queuing. Another couple of men are preparing heroin for inhalation inside the open public toilets. Here crack goes for €5 per crystal, it's €30-50 for a gram of heroin and around €8-12 for a gram of hashish or weed.
The price depends on the quality though. One guy sits inside, clearly shooting up, as we walk past. Nearby is a group of older Leo locals – one of whom is a homeless man in his sixties, bandaging his own leg while sitting in a wheelchair. The group is chatting with a younger man, who is clearly selling gear: people walk up to him, and he places something in their palms in exchange for money. When the group is approached, one of the men aggressively says he will not talk, while the others try to calm him down.
Further along the square, in front of Leo's other church, another group of men are shooting up. One is helping another, with a dirty handkerchief around his arm. After the needle is removed, the user squats down; his friend, keeping one hand on the back of his head, throws the used needle into a big shopping bag on the stairs of the church. This is all happening in plain sight, at 11 o'clock in the morning.
Two policemen arrive. One might expect the scene to change suddenly, but nothing happens – the cops have only come for coffee.
Two policemen arrive. One might expect the scene to change suddenly, but nothing happens – the cops have only come for coffee. When asked whether they think anything could be done about the drug situation here, they reply that inquiries should be directed to the Berlin police press office.
Upon being contacted, the police representative, Heidi Vogt, gives a run-down of what law enforcement currently does about drug use in the square. "Leopoldplatz is regularly patrolled by the Local Police Section 17," she says in an email. "In addition, there are focal operations (repressive and preventive) to combat narcotics crime."
Vogt adds that the 'mobile guard' of Berlin's police is regularly deployed on the forecourt of the Nazareth Church and indicates that the direct police presence is part of a wider effort involving various other groups. "Section 17 has been an integral part of a broad network for many years," she explains. "There is a close and intensive exchange with the social agencies of the addiction and homeless aid, the Youth Welfare Office in Mitte, the Nazareth Church community, as well as with various educational institutions and associations, in order to jointly and purposefully counteract crime in connection with narcotics on site."
Vogt also admits that there is still work to be done at Leo. "In the area of Leopoldplatz the Berlin police regularly detect violations of the Narcotics Act and punish them consistently. Both as part of the daily basic police service and in the course of focal operations at Leopoldplatz, custodial measures are repeatedly taken against persons who have come to light there either as drug users or through trafficking in narcotics."
According to official police data for 2021, 254 suspects were identified in connection with narcotics offences in the area. For the year 2022, the number of identified suspects was 109 as of June 30.
There has been talk among locals about a recent overdose-related death at Leopoldplatz, but no one seems to know the details. Some say that a young girl was found dead by social workers, while others claim the victim was a man who took a lethal dose as part of a bet, and then was left to die. The police press office, however, says that they have not been called to an overdose case at Leo over the last few months – this does not necessarily mean that the death did not happen, only that a criminal act did not take place.
"Leopoldplatz just doesn't let go!"
The day stretches on into afternoon. Every weekday, between 12pm and 4pm, a group of social workers and volunteers show up at the corner of Turiner Straße and Schulstraße in the colours of Fixpunkt e.V. to perform outreach work. This organisation's main goal is to provide community-oriented drug and addiction support, in addition to mediating conflicts among communities in the relevant public spaces in Berlin.
There has been talk among locals about a recent overdose-related death at Leopoldplatz, but no one seems to know the details.
In the Leopoldplatz area, they off er needle exchange automats and share out preventative antibiotics in order to avert infections. Fixpunkt also makes a range of medical care packages available, as well as providing consultations and running educational projects.
Through the window of their small hut on Leo, the Fixpunkt team hand out brown paper bags of supplies designed to meet an addicts' basic needs: clean needles, disinfectant, food and some tea. The addicts of Leopoldplatz stand in a long line waiting to receive their care packages. There is even a young couple with their small child in a stroller – a social worker walks up to them with forms to fill out.
Even on days when Fixpunkt does not have enough personnel to open up the hut, they still go and distribute food to local homeless people.
Across the street from Fixpunkt's hut, dozens of people are gathered in an area that has been designated as the official consumption zone. Many are from Afghanistan or Balkan countries; they speak in broken German. Some are extremely friendly, coming over to off er a fist bump and a hug with a crack pipe in their hands.
Others warn that we should leave if we do not want to get into trouble. A pair of young German men accept a beer in return for a chat. It seems that these two friends, Chris and Lukas, are more open and more coherent than most others in the consumption zone.
"I was always very drawn to drugs," Lukas says. "I remember the first time I saw my older brother and his friends smoke pot – all I wanted was to try it, I wasn't even ten. My brother refused, of course, but his friends eventually offered me a hit one afternoon when I was 12. That was it for me." Lukas, who is 31 years old, hails from a small town in the north of Germany. He says he grew up loved, although he always had emotional issues. "I was the youngest in my whole extended family, the baby. I was super sheltered at home – they always let me win at games, they never said no to me. I really wanted to break out of that. I never learned to handle disappointment, but life is disappointing, so I use to escape that. But then I just become more disappointing, and then I use more." Lukas laughs bitterly and takes a hit of a joint. He has a gentle smile, and looks like an intelligent man. He seems like someone who could have a chance to get out of here – but he says he has not even tried.
His friend Chris, by contrast, certainly has tried. Chris – who describes himself as a "real Ossi" – has been to two rehabs, and also took part in the area's methadone program. For a time he lived in a halfway house, a flat he shared with other recovering addicts while social workers checked in on them, but he fell off the wagon."I never knew my parents," Chris says. "I had it hard growing up. I was already doing all sorts of drugs by the age of 14, and I never even finished school." Chris explains that he came to Berlin on the day after his 18th birthday, because a friend had told him the nightlife was amazing. "But that costs a lot of money, so I ended up not going to parties anymore, and spending all my money on just getting high. Doesn't matter where you are, in the end." He says this quietly and nods, and then stays silent for several seconds. "Drugs are a bitch. You know, I tried. I had five months clean, and then seven. The first time, my friend snuck in some shit and offered it to me too. Thirteen months later, I tried rehab again. But the methadone center is right by Leo. So I passed by here often, and I saw familiar faces. And then I just came over to say hi, and boom, I was back. Leopoldplatz just doesn't let go!"
Chris has been out of the rehab program for almost a year now. He is jumpy as he talks, and his dialect-inflected voice is not easy to follow, but he says he was always praised at school for his sharp thinking. If he could get out of here, he would like to become a chef at a fine dining restaurant. He has never been to one, but he loved the movie, Ratatouille. He and Lukas begin talking about the famous cooking rat from the film. They discuss it for a long time. Both men mostly use crack, hashish and heroin.
Couldn't it be somewhere else?
The Fixpunkt container is definitely popular amongst the addicts at Leopoldplatz. Lukas says this is because they treat people with kindness and inclusion, and because they are always there to help if someone decides they want out. Locals, however, are not all so positive about having a needle exchange and methadone programs in the area. Some say it only attracts more and more addicts. "I love Wedding, I grew up here, and it was always rough – but it's somehow different now," says the young mother at the playground. "I'm not sure whether I want to raise my children here for much longer. The city is purposely running down our hood by allowing these initiatives here. I am not saying these people don't need help, but couldn't it be somewhere else?"
Dr. Ahmed*, a doctor from a nearby practice who prescribes methadone to addicts in the program, says he understands the concerns of the locals – but counters that the further out a centre is, the less often it will be visited, which makes central Leopoldplatz an ideal location. "Drugs are taken where things are happening, so addicts will be where things are happening too," he says. Dr. Ahmed, who made the decision to work with addicts eight years ago, has observed a large number of Muslim users in the area. "I am not sure why this is," he says, "I think it's the gangs – the mafia here makes people turn away from faith and then they become addicts. And it's extremely hard to break out of addiction. Only about 17 percent of addicts can get back up on their feet, and only two percent can say that they are still clean 10 years later. It's a very, very small number! Today all of our programs – like the needle exchange and the free-of-charge medical examinations – are about helping the addicts to stay as healthy as possible, and to consume drugs in a more responsible way."
Prevention is our biggest responsibility
Dr. Ahmed says that Leopoldplatz is definitely one of Berlin's tougher areas; he suggests that, due to the significance local presence of organised crime, nothing much is being done on a systematic level about the drug situation. "What I can say is that prevention is our biggest responsibility," he says. "We need to watch out for our loved ones if we have any suspicion of drug use, because by the time it really affects their personalities and becomes obvious to everyone, it's usually too late." The warning signs, he explains, include a slightly higher temperature, an inability to focus, irregular or very little sleep, loss of appetite and pupils that are dilated even in daylight.
Lukas, for one, certainly gives the impression that it is too late between him and his loved ones. He speaks
about his family compassionately, but as if they were already dead: all the nice memories are firmly lodged in the past tense. "I haven't talked to my dad for nine years now, although all I ever wanted was his approval," he says. "I lost touch with my brother seven years ago after he and his wife took me in for a few days, when I was considering going to rehab, and I stole from them to come back to Berlin and buy drugs. My mother gave up on me much later – she would always call to make sure I am alive. She would even send me money for rent, but she suffered so much from me being her son, so I stopped taking her calls. It's better if she thinks I'm dead."
So why does Lukas not leave Leo? How does a man from a loving family end up sleeping rough and taking whatever drugs he can? Lukas believes it must be something in his wiring. "There is something wrong in my head," he says. "I want just to live this way. I want to experience as little of the world as possible."
Read more from our Wedding issue: Decolonial tales from Berlin's African Quarter