Grab your friends, family, visitors and Tinder dates and secure yourself a table at one of these fabulous spots. This is our list of the best beer gardens in Berlin (Spandau is Berlin, right?).
Birgit und Bier
A former garage just off Schlesischer Busch has become one of Berlin's favourite playgrounds in the last two years. Birgit & Bier doesn't follow a classical concept and can't be pigeonholed. It's a club, beer garden, bar and funfair. A place to dream and to escape everyday life. Simply put: it's the midsummer night's dream of Berlin's club scene. You can sample a very unique beer — Pilsner Urquell Tankbier. If that's not enough, they also have street food stalls and a bar with wine and various craft beers. Later in the night, the bar makes cocktails and DJs play dance music.
BRLO Biergarten
When a beer called BRLO first filtered its way into Berlin, you'd probably have assumed this was another start-up with a canny instinct for the craft beer zeitgeist. But, once you'd finished a bottle, you could actually taste what was behind it: craft and passion. A brewery quickly followed, built from shipping containers with distinctive flair, and now there's a cosy beer garden, too. We particularly love the fact that the beers are served with equally well thought-out food — a rarity in Berlin. Ben Pommer, a born-and-bred Berliner with a background in fine dining, developed the concept. Obviously there's meat: tender ribs, for example, straight from the smoker, but really outstanding are the vegetables, a perfect composition of acidity, sweetness and smokiness. Plus, with every plate comes a beer recommendation.
Café am Neuen See
The unmissable legend. As soon as the sun shines, two- and four-legged Berliners trek to the beer garden and café in Tiergarten, next to lake Neuer See. The self-serve area has become its own pavilion with several cash registers, food and beverage stations, just like a canteen. On the menu: pretzels, pizza, pasta, and the Bavarian classics of all German beer gardens: Weißwurst and Leberkäse, bratwust, shandy and wheat beer.
Mauersegler
We all know that Mauerpark is a Sunday hotspot. But Mauersegler, right next door, is bustling every day and is actually one of the most popular beer gardens in Berlin. They have fresh, cold beer, a grill, plus snacks and coffee. The biggest football games are shown, and on Sundays you can listen to the karaoke singers in the park.
Maria und Josef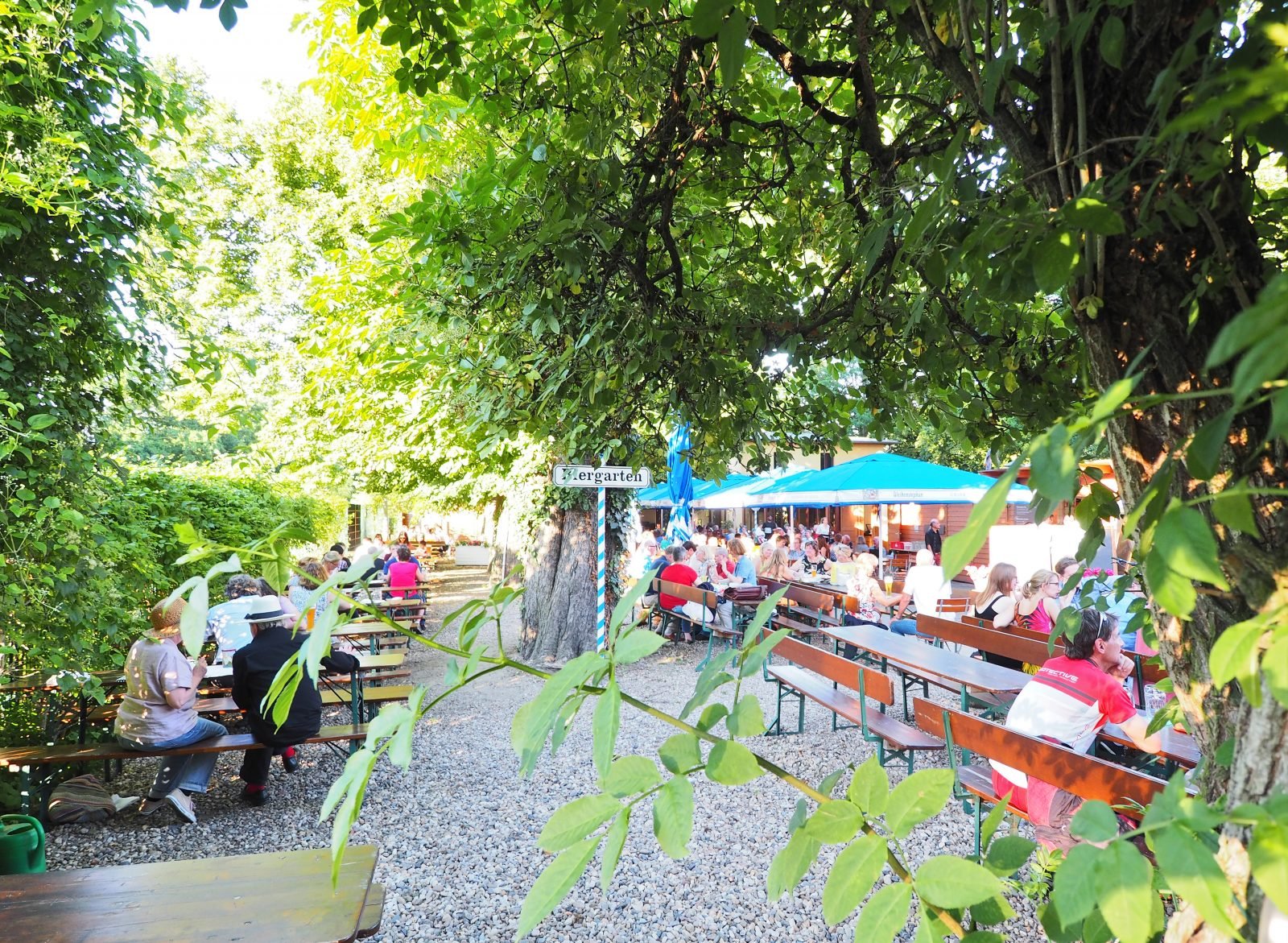 Bavaria in Berlin? Yep, that's right. Bavarians and Berliners harbour a fairly healthy mistrust of each other, but this beer garden in Steglitz does its part for intercultural dialogue. At the large beer gardens they not only have Bavarian beers, but also Southern German snacks. For example: Haxen (pork knuckles) and Obatzda, the Bavarian answer to hummus, a mixture of mashed cheese, paprika, butter… and beer. Order a Maß beer, the traditional Bavarian beer glass which holds a litre, and you'll feel like you're in Munich.
Milchhäuschen
Right next to Weißensee, there used to be a little 'milk hut' selling all manner of dairy products. Used as a tavern since GDR times, there's now nothing left of the historical hut. These days it's a glass pavilion next to the shore, with cheery blue and yellow furniture. The sunny terrace has two floors with about a hundred seats. This chic, laid-back location is more calm and relaxed than most. There's also breakfast (but only from 10am to 11.30 am), while the rest of the day it's savoury treats like pickled herring and Nürnberger bratwurst on the menu — but also appetising cakes and ice cream sundaes.
Prater Biergarten
At almost 170 years old, Prater Garten is one of the most iconic beer gardens in the city. Locals, business types, students and international tourists meet here under the chestnut trees. Their own Prater Pils is made by a brewery in Frankfurt/Oder, the food cooked fresh on the grill, and good vibes are guaranteed.
Schleusenkrug
Located right in the middle of Tiergarten, Schleusenkrug feels like a trip to the countryside — despite being only a few steps from the U-Bahn station. Inside, it's narrow and tight, while the outside area with wooden chairs and beer benches is pretty large. During summer, Neuland meats sizzle on the barbecue, marking a commitment to quality. The rest of the year, they have a seasonal weekly menu with soups, salads, Alsatian tarte flambée and several main dishes.
Urban Spree
There's so much to discover at RAW, and for many, Urban Spree is the starting point of a wide-eyed adventure through Friedrichshain's most famous cultural space. The 900sqm beer garden has a sort of 'creative building lot' vibe. Urban, yet cosy. Arty happenings, both inside the venue and out in the garden, as well as street food stalls, complete the experience.
Brauhaus Spandau
This red-brick building used to be a wash house. The copper brewing kettles and wooden furniture fit perfectly with the hearty food. From meatballs to ham stewed in dark beer, served with sauerkraut and dumplings. On Sundays there's live music, and Spandau's families lay siege to the venue. If you can't find your way home once you're done, book yourself into their hotel on the same compound.
Schankhalle Pfefferberg
At the old bar of the historical brewery and the sunny terraces above Schönhauser Allee, you can order traditional snacks such as Schmalzstulle, (bread and dripping), liver, or boar rissoles – and the delicious Treberbrot, a bread with crushed malt left over from brewing beer. Most importantly, however, they have their own beer, brewed here since 2013 — a crisp, zesty and hoppy lager. Their malt beer comes unfiltered and has a mild taste, and, lastly, there's an Alt, resembling an ale, with a strong hoppy bitterness and a mild note of nutty caramel. The master brewer really knows his craft, as he's shown before at the brewery at Südstern.
James Biergarten
You may know Melanie dal Canton from her beautifully curated high-end cosmetics shop on Knaackstraße. Curated is also a good term to describe the beer garden she started just in front of the metaphorical gates of the city. There's Andechser beer, organic bratwurst, and a few other wholesome snacks. We don't need anything else for an afternoon out in the sticks. Or a little break on a cycling tour or hike.
Golgatha
It's a stone's throw from this cosy beer garden to many sights in Viktoriapark: the petting zoo at the foot of the hill, the 180-degree lookout terrace at the top of the park, and the beautiful waterfall in between. Golgatha quenches thirst and hunger and is the perfect finish to a walk in the park.
Translated by Aida Baghernejad