1850s-1960s – Period frocks, timeless tailoring, cinematic style
Glencheck
On Fridays and Saturdays, Constanze Pelzer and Harold Zoepke drop their day jobs but not their clothing. Always dressed head-to-toe in old-world attire, these vintage lovers cover a period spanning the late Silent Era to film noir at Glencheck, a bastion of Berlin vintage in Halensee, launched in 1991.
Good-quality garb from the 1930s might be increasingly hard to find (at almost a century old, some pieces are starting to fray) but Pelzer and Zoepke can still get their hands on the odd gem. They work their network of private individuals, almost all in Germany but occasionally in the US, to get the goods. A quick rummage turns up 1950s blouses in wool, cotton or silk, fringed scarves and a 1930s evening dress that's an explosion of crepe-textured colour.
Spitze
One-time fan of the shop Katharina Göres bought Spitze, a Berlin institution since 1985, in January 2020. Taking time out of her career as an opera singer, she has leapt into the world of vintage fashion to source and curate a collection spanning as far back as the mid-19th century. Here you'll find a rich assortment of textiles, from light-as-a-feather charmeuse begging to be draped over bare shoulders, to silk, wool, velvet and the finest cotton. While synthetics of the 1950s and 60s aren't quite Göres' style, she still appreciates the odd distinctive item from that period, like a show-stopping dark-blue dress with ornamental velvet print.
Prices vary according to era, craftwork and fabric: shirts start at around €30, or gents can go the whole hog with a 1930s woollen suit in dark-blue tones and discreetly patterned chequers. Göres also has a number of gents' hats straight out of film noir. Ladies looking to top off a Roaring Twenties look can splurge on a straw cloche complete with a velvet flower embellishment. There's something here for the whole family (Spitze even caters to old-soul children) but Göres' main customers are costume designers. Without a big production budget behind you, you might want to haggle a bit over the prices.
Retronia
If you feel Marlene Dietrich and Fred Astaire were a shade too tiny by today's standards, retro entrepreneur Verena Kasper has the answer. Founded in 2006, Retronia works with suppliers like Pike Brothers, Red Wing and Heinz Bauer to make period pieces from the 1920s-60s in sizes that don't leave you fearing for that strained zipper.
Every nook and cranny of this place is filled with alluring faux-retro gear, replicas from the late-Weimar era to the Swinging Sixties, making it a must-stop shop for costume designers working in theatre, film and TV, as well as anyone looking for the missing piece of that carefully curated vintage outfit. Pick up a 1920s men's waistcoat in grey with subtle Tiffany waves of white and black, or a pastel-rose flapper dress with a pretty turquoise-chestnut and gold pattern. They may lack the nostalgic charm (and the delicate fabrics) of the originals, but they pull off the glamour.
Mimi
When Mirjam Grese started hawking her personal collection of rare hats at flea markets, a costume designer suggested she go professional. That was 21 years ago. Today, her shop Mimi is filled to the brim with 19th- and 20th- century vintage items. Think floor-length 1950s evening gowns, or mint-condition wool suits with a pair of ruby-encrusted gold cuff links to match.
There are racks of cotton day dresses with obscure geometric patterns alongside an impressive collection of floral knitted handbags. Its richly decorated rooms, replete with thick gold curtains and spiral columns, are packed with clutches, ties and purses. Grese also has a few hand-picked items from China and Japan. Mimi's personal favourite is a costume embroidered with little dragons that made its Peking opera debut in the 1920s.
At the back, a corridor lined with vintage black kimonos leads to the 'Blue Room', which attracts a younger crowd. No corseted Belle Époque contessas here – instead you'll find 1970s Jean-Paul Gaultier jackets and noughties-era Muay Thai t-shirts.
Fräulein Anders
You might not have quite fallen down the rabbit hole when you enter Fräulein Anders, but its 1940s-60s collection sure does capture the imagination. It's housed in a cosy space featuring 1880 tiling on the walls, a floor the colour of under-ripe avocado and a 100-year-old, jet-black piano. Owner Lilly Anders sells only second-hand and only original, doing justice to her surname by offering something a little different.
This womenswear specialist has a selection of frocks, plus the perfect items to accessorise on the shelves above: crimson-coloured leather handbags, a vintage black briefcase and silver totes. Anders' lack of menswear is a conscious decision. She says blokes these days are larger, so it's harder to achieve that tailored, James Stewart-like fit. So this is one for the ladies, with a large walk-in cabinet for trying things on behind luxurious pink curtains. Anders has supplied the odd stage production, but she prefers to sell to people "who will wear the clothes long-term".
1950s onwards – 60s psychedelia, 70s glam, 80s power-dressing
MANKii ViNTAGE
As you enter MANKii, you're welcomed by a mannequin wearing a honey-coloured Burberry trench coat. Owner Jasmin Grabow-Gültekin attracts her clientele with a carefully curated collection of exclusive womenswear.
The interior is fittingly elevated, with shiny, polished floors, gold-framed mirrors against black walls, and Gucci and Chanel shopping bags casually strewn as decorative space fillers. You'll find vintage and designer second-hand here, and customers are promised top condition. Expect exquisite materials like silk and cashmere. We found timeless gems like Prada shoes, Moschino jumpers, Versace blouses and a beautiful MaxMara blazer. She keeps the valuables in glass cases, so you can peer in at gems like a fabulous statement necklace from the 70s, its faceted black beads sparkling from every angle.
But this isn't just fodder for your rich aunt's wardrobe. We also spied McBling (2008) denim shorts with all the glitzy trimmings (think Britney and Paris).
Veist
It might not be the most affordable, but Veist has an impressively eclectic collection fuelled by local suppliers. Predominantly for the older shopper, that's not to say trendsetting young thrifters with deep pockets can't find something standout in this white-walled minimalist cube of a shop. How about a printed 1990s nylon top by Versace Jeans or a Claudia Skoda knitted wool pullover?
Veist feels refreshingly different from other stores hawking similar garb: its modest size gives it the feel of a carefully curated assemblage rather than someone's entire vintage collection. Don't miss Veist's 'Kleidergeschichten', in which the seller tells a little story about each item on the tag. And with a box of free stuff to check out on your way in, this might be Berlin's friendliest vintage shop.
O.F.T. (Ohne Frage Toll)
Marita Schwalm's Ohne Frage Toll, founded in 2004, houses vintage clothing from 1950s classics to 1980s post-punk, with a few items dating as far back as the 1920s. Over 20 years, Schwalm has built relationships with individual German dealers sourcing second-hand stock across Europe. If costume design is your game, Schwalm's Prenzlauer Berg 'showroom' also rents out for film, theatre and TV. But for the right price, these treasures are yours to keep.
With clothing starting at €50, don't come here for the basics, but if you want the building blocks of a show-stopping ensemble, look no further than a pair of low-rise bell bottoms in snake-patterned velvet, a 1980s mini chiffon in black, or a Bordeaux-coloured kimono-style dress from the 1990s.
Humana
With 39 stores across Germany, there is no getting around this giant of second-hand shopping. Nineteen are in Berlin alone, and counting. The company's top locations – its five-storey emporium at Frankfurter Tor and the street-level warren in Alexanderstraße's GDR-era Haus des Reisens – are filled with 30,000 and 25,000 items respectively. But how many of those are fast-fashion rejects from H&M, C&A and Zara? Until a few years back, Humana's used-clothing haul was too recent and too mass-produced to really scratch that vintage itch. But the gradual extension of vintage-labelled sections at major locations has raised the chain's game.
One of the latest additions to Humana's Hauptstadt portfolio, at Schönhauser Allee 72, is chock-full of 1980-2000s thrift (with price-tags to boot), and the new street-level shop on Friedrichstraße has an impressive array of party clothes. Like most Humanas, it's a bit dusty and a bit dingy, but still worth a visit.
In fact, every Humana has its saving grace. For a start, you're never far from one. And with the promise of scarves for 50 cents, sneaks for a tenner and those ever-popular Norwegian knits for around the €14 mark, Berliners on a budget don't get left behind.
Cache Coeur
The first thing you might notice upon entering is the endearing chaos that Gerlinde Koschick reigns over with regal calm. Half the clothes are on a rack and half are in boxes lining the floor, so there is an opportunity for treasure-hunting everywhere. With many pieces bought from auctions and warehouse sales, you can expect to find flawless, original-condition gems – from winter coats to cocktail dresses to silk and leather gloves to evening outfits… and jewellery to boot. The pieces have been picked for their quality and condition. Find a mixture of haute couture labels like Alexander McQueen (the owner is a huge fan) and lesser-known, though still exquisite, pieces by no one in particular.
Who shops here? Individualists! It typically attracts a more seasoned crowd of dressers, as well as folks from Koschik's theatre circle, international regulars who keep coming back for more and "even some famous people", she says, without naming names. Koschik is no stranger to stardom. In fact, she was part of the costume team behind the Netflix series The Queen's Gambit.
Aura
Sail through an unassuming doorway and into a sweep of colours, patterns and textures. You've landed in Aura, a Neukölln boutique founded in 2012 that takes shoppers on a cross-century journey through Nippon formalwear. Slender pieces of wood form room-length clothes racks displaying the best of Amundra Gantömör's 1700 kimonos. Whether you're looking for a sumptuous dressing gown or a knock-out wedding outfit, these garments, all sourced and custom-ordered from Japan, are the real deal.
A crisp fifty will get you a kimono from the 1980s-90s made with cotton or synthetics. Rummage around and you might find some handwoven textiles in this price bracket. Bump up your budget to €150-250 and you'll score expertly crafted styles from the 1950s-60s made from silk, cotton or sheep's wool. If you're looking for a unique, more storied piece, made of pure old silk and distinguished by the handwork inside, get ready to fork out anywhere from €300 to €5000.
No Socks No Panties
Taja Lapp likes to keep things local with her cheekily titled shop No Socks No Panties. The majority of her stock comes from Prenzlauer Berg neighbours, who can hang their unwanted clothes on her shelves at an agreed price for five weeks, and get 40.5 percent of the sales in return. The result is a broad selection of mainly womenswear, mainly spanning the 1960s to the 2000s. (Dig around though and you'll find a few accessories dating as far back as the 1920s.) We loved a 1990s midi dress in dark-green velvet and a 1980s Bolero crop top adorned with black feathers. Complete the look with a multitude of vintage bags, mostly leather but also in natural fibres that line the walls of the shop on shelves.
Goo
Frank Rademacher really put the effort in with Goo, perhaps the fanciest of his four spots, which shares a space with his first love, Paul's Boutique. The exclusively designer items here are mostly from the 1980s onward, although you may find some older things, especially in the shoe department. A recent rummage turned up Burberry trenches, polos and Norwegian-style jumpers, as well as Barbour quilted jackets and a lot of high-quality men's suits and shirts.
This collection is strongly focused on limited luxury items – as evidenced by the bombastic Louis Vuitton luggage set sitting on a top shelf, although that's for decoration only. Such levels of showiness are almost unlike Rademacher, who admits to only catching on to luxury styles after "wearing fucked-up jeans and Converse Chucks for a decade".
Lunettes Selection / Optiker Berlin
When art and film historian Uta Gayer realised that long hours of study meant a pair of specs were in order, she realised cat-eye glasses are hard to come by. So in 2006, she founded her Mitte shop, which has since been joined by locations in Charlottenburg and Prenzlauer Berg. She specialises in dead-stock vintage frames while also offering an own-brand range of retro blinkers (Lunnettes Kolektion).
Gayer sources never-worn vintage pairs from private sellers (including for example a Ukrainian antique dealer who once found a haul of original eyewear in an old drawer), as well as wholesalers and occasionally brokers. Spectacles à la Clark Kent or black Yves Saint Laurent sunnies can be picked up for anywhere between €150 and €350. If you want that inimitable buffalo-horn frame, it will put you back €800. Gayer's own-brand retro eyewear sells at €289 per frame and is produced by two artisanal families in Northern Italy. Gayer gets special props for her in-house vintage opticians.
Wondering what an old-school eye examination looks like? Sat in an early-1950s barber's chair, recently upholstered in pistachio-coloured leather from a BMW, you'll peep through what at a distance might fairly be mistaken for rows of gambling chips but are in fact circular, coloured lenses. Other than its usual clientele, Lunnettes caters to film and TV. You may already have seen the reseller's specs on hit series 4 Blocks, set in Neukölln, or Wes Anderson's latest release The French Dispatch.
Dress Code
On a side street in the buzzing Bergmannkiez, Nadja Stegmaier runs the charming time capsule that is Dress Code together with her brother and a close friend. Stegmaier studied fashion design and, as you enter the store, you'll typically find her sitting at her sewing machine, Madonna's 'Vogue' playing in the background. The family business, established in 2014, showcases a collection encompassing different decades and styles, spanning both quality vintage and curated second-hand.
Scrunchies and kimonos by Berlin designers, upcycled and recycled bits and bobs, pieces from theatre productions – it's all under one roof. On a recent visit, we spied swimwear, 1970s-style summer dresses with big polka dots, leather boots, statement necklaces and lots of men's formal shirts. There are some more sporty brands such as Levi's, Wrangler and Lee, but the 1990s streetwear selection isn't exactly the main draw here, leaving room for a unique mishmash instead.
Koku
The first thing you'll notice about Koku are the shoes, the shoes, and then also the shoes. This is a regular haunt for the Neukölln vintage hunter, and you'll most likely have a short waiting time on your hands before you can get trying on their impressive range of Dr Martens loafers, boots, sandals and everything in between.
You're getting true quality with Koku, so be sure to approach staff with what you're looking for, be it 1980s colourful sneakers, Chelsea boots, high heels, pumps, or whatever else might take your fancy. The shop has more than just shoes though, with a copious range of jackets, from 1980s skiwear to club-ready leather, a fully stocked collection of vintage Levi's, and, for those who still dare to wear real fur, a spinning rail of glamorous fur coats.
Garments
If you're looking for the finishing touches, head straight to Garments on Linienstraße. Sure, the clothing is beautiful, but what sets this place apart from the other vintage boutiques is that it cares just as much about the accessories as it does about the outfit. The collection here makes you want to go back in time, just so you can attend a 1980s party with big hair, clip-on earrings and shoulder pads. There's only one of each piece so everything feels precious.
Clothes that stand out here: a soft napa leather jacket in ultramarine blue, an angora jumper and a 1980s Escada bomber in black satin with exquisite embroidery. Then there are the shoes, such as ostrich-leather Marc Jacobs heels or orange and gold Chanel sandals, plus a plethora of clutches. The accessories assortment ranges from vintage Disney keychains to hair jewellery and chunky necklaces, and a lot of clip-on earrings.
1990s-2000s – Bucket hats and bell-bottoms galore
Sing Blackbird
Diana Dodik and Natasha Arana's vintage business started out as a party trick when they brought their old clothing to a birthday do. The crowd cried out for more and so the shop Sing Blackbird was born. Twelve years later, this Neukölln locale is firmly established as a resident favourite. What began as a café and clothes shop with a second-hand kit from New York is now dedicated entirely to vintage garments that meet the zeitgeist for 1990s-2000s originals.
The luminous white interior houses racks of clothing in a rainbow of colours, patterns and sizes. Stand out from the crowd in a pair of low-rise, bell-bottomed trousers in emerald green matched with one of their many crop tops or a pink-and-black-striped shirt. They also buy on a sale-or-return basis, allowing them to hand-pick items, particularly sizes, that you might not get with wholesalers. Young Berliners can be seen having fun in the changing rooms putting themselves together, but, says Dodik, older people also come here for the well-stored vintage at moderate prices.
Vintage Revivals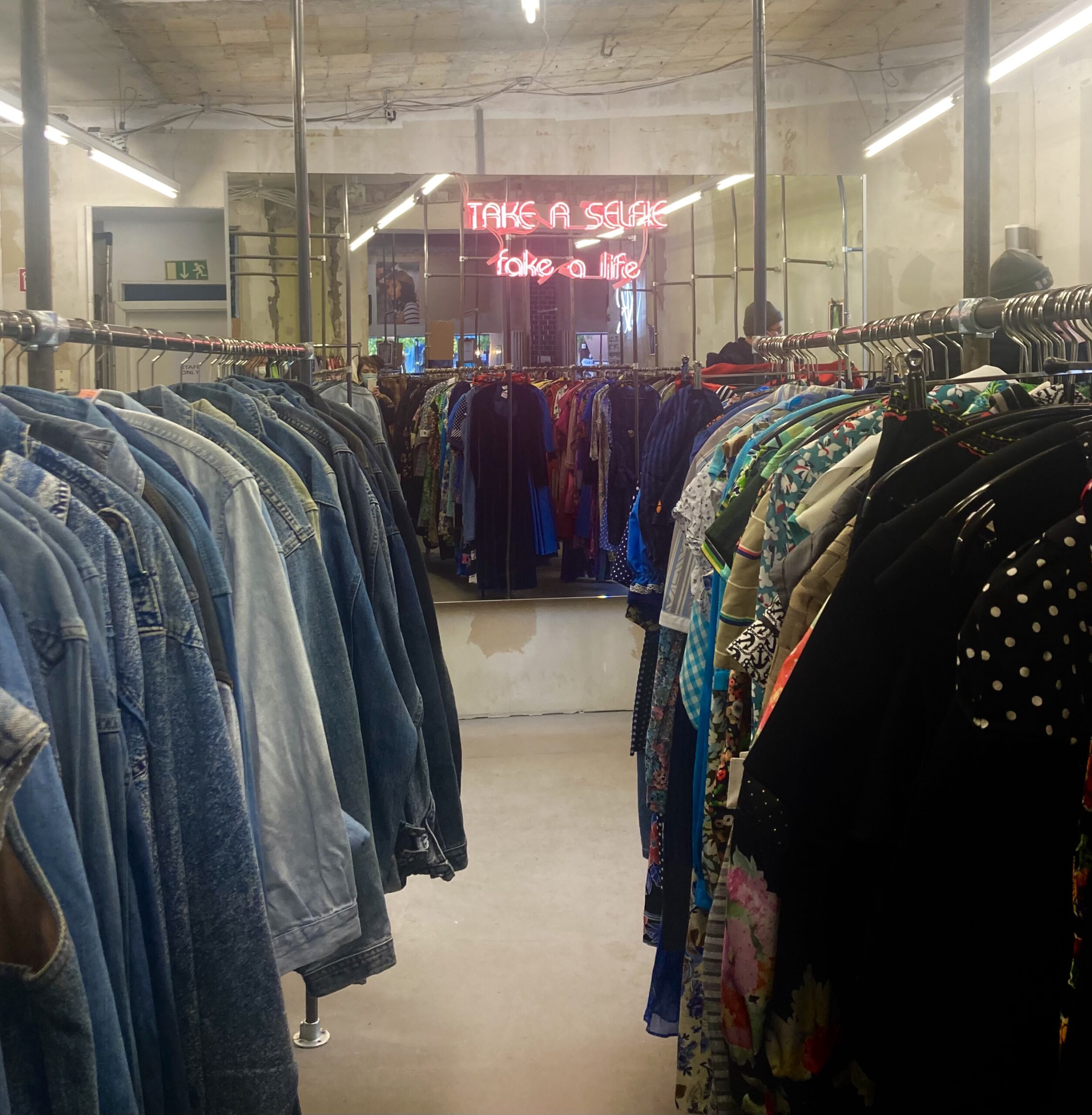 Some kind of marketing genius got hold of Vintage Revivals, a Germany-wide second-hand chain, and turned it into one of the hottest places for Gen-Z (and older affiliates) to thrift in Berlin right now. Both the original haunt on Schönhauser Allee, an industrial palace with bare brickwork, exposed concrete and green tiling, and its smaller sister shop on Münzstraße feature TikTok-ready interiors with great lighting and huge mirrors instructing shoppers in neon tube writing to "take a selfie". R&B music invites you to dance as you dig through their well-curated collections. On a recent visit to the Münzstraße boutique, we found a vintage Adidas zip jacket for €50. For €25, you could pick up the same style from a no-name/smaller brand. (Labels included Tommy, Fila, Kappa and Lacoste.)
The deep end of this new store is paradise for the individualist. Here you'll come across Latex corsets, kilts, an Oktoberfest Dirndl, Harry Potter-style velvet gowns, cowboy boots and super vintage Birkenstocks (these belong in a museum, not on feet). The über-cool staff talk up brands like Burberry, Prada, Louis Vuitton and Gucci but don't be alarmed – the prices are competitive. Collectors of buttons should remember to pick up one or two of the free 'VR'-branded badges on the way out.
Steals Berlin
A clutch of nostalgia-trip bric-à-brac behind a sticker adorned window guides the way into Steals Berlin, a must stop shop for street style loving hypebeasts. Owned by Julia Bakalsky and Dimitar Variysky, Steals specialises in streetwear and collector's items. We're talking t-shirts, t-shirts, t-shirts. No other shop in Berlin has so many limited-edition tees, with prices ranging from the €10 bargain to the €500 investment. (Bakalsky and Variysky only buy what's unique, so everything has resale potential.) Bakalsky assures us it's still cheaper here than to go on eBay or Etsy, where bidding options can send prices soaring. Fun fact: collectors tend to buy t-shirts in XL, so most of the ones here are pretty roomy.
So what's in the collection? A lot of band t-shirts, a host of your favourite fictional characters (Disney and Batman dominate) and some of Keith Haring's 1980s graffiti designs. Three basketball jerseys hang behind the till, including one bearing the name of late Lakers legend Kobe Bryant. What's wonderful about this place is that each piece of merchandise offers a point of conversation, so even window shopping here is worth it. Apart from t-shirts and jerseys, we also came across caps, MCM and Versace jeans, a pink Y2K Yves Saint Laurent bag, and even Pokémon and Playboy merch.
V Vintage Fashion
If you're in the Warschauer Straße area and feel like dropping some modest cash, make a beeline for V Vintage, which offers a mix of second-hand and vintage clothing. Here, clothing has no gender, so men's and women's clothes are mixed. Upstairs you can browse pre-loved jeans and a lot of those wide-legged trousers that are so in right now, as well as jackets and used sneakers, including a ravishing pair of red Stan Smiths. Downstairs is for flannel shirts, more jackets and corduroy items, plus a lovely selection of knitwear. Party clothes, sequined tops and other festive garments are dotted around the store.
Price and audience wise, this place is comparable to Vintage Revivals, with its crowds of younger shoppers, although V Vintage scrimps on the street/sportswear so coveted by Gen-Z, so this is a place for millennials to feel seen. The range is in constant motion as designer pieces come and go quickly – if you want that classic trench coat, better sharpen those elbows and act fast.
vv_berlin
Vasiliki Voulgari made a name for herself in Berlin by hawking her vintage spoils from an illicit showroom in her Alexanderplatz flat. Today, she's set up shop in Neukolln but still attracts her original fanbase who come from as far as Japan to get a hand-picked look from this Greek-born fashion guru. The shop V Vintage might have turned legit, but it still has a dealer's-den feel reminiscent of her underground days.
Items are sourced largely from southern Europe, which explains the generally smaller sizes (a rare gem in a city built for larger, Berlin-winterproof frames). Expect wicked tops for under €15, coats for around €50, some of the cheapest kilts at around €25 and black mini skirts for €35. Though some garments are clearly priced, most of VV's stock lacks a tag, so expect a little haggling. The ever-intuitive Voulgari really puts the 'personal' in 'personal shopper', staring deep into your soul to give you exactly the look you need.
Calypt
Sitting on an unassuming corner of Kreuzberg's usual vintage track, for seven years Calypt has been offering an intimidatingly perfect collection of sleek, club-ready gear with an attitude. Here you'll find a dizzying array of shoes, from the outlandish to the elegant, to those metal-punk clompers that are currently making the rounds. Its assortment of garments features suit-ready button-ups, washed-out denim shirts and Y2K dragon-patterned thermals.
If you're in need of a new party look that says you're back and unbeaten by Covid, Calypt offers a range of silky, flowy, genderless gowns and crop tops that are sure to turn all eyes on you. They can also sort you out with the perfect jacket, no matter your taste, from trench coats and leather biker gear to high-school denim and fetish sportswear.
Let Them Eat Cake & Oh Mini I Am
With its pastel pinks, ethereal jazz and knobbly, abstract vase collection, the Swedish-run Let Them Eat Cake and its eight-year partner Oh Mini I Am are unmissable on Neukölln's vintage parade, Weserstraße. You'll be spoilt for choice here with a near-psychedelic array of furry coats, snake-print jeans, noughties long denim skirts and ready-to-wear, one-piece suits. "Anyone can be a customer," says founder Karin Hannedahl, "and we source from all over the world." Expect to bag that tiny purse you've been searching for to make you feel fetch in the club or on the street. Hannedahl makes no distinction, offering clothing for all occasions, styles and ages.
Archive Berlin
Enjoy R&B classics booming on the speakers as you sift through the unique range of American baseball tees and tank tops at Archive Berlin. As sleek as this nineties/noughties playground is, it is also eclectically diverse. While those aforementioned tops will generally set you back around €15-25, Archive also caters to a more budget crowd with several €5 boxes, each bursting with tops, jeans and trendy sportswear at some of the cheapest prices in Berlin.
Lining the upper rows of the shop is a wide range of bandanas, of all colours, patterns, and aesthetics, plus rows and rows of jeans costing between €25-70. From hip-hop to sportswear to Adidas tracksuits, this Black-run second-hand shop offers curated streetwear for fresh-faced Berliners at fairly reasonable prices, on one of the city's busiest shopping parades.
Das Neue Schwarz
Don't let the tinsel laden walls and eye-catching shelving display fool you – Das Neue Schwarz is not here to mess around. Off the beaten vintage track, it has asserted itself smack-bang in the middle of Berlin's designer parade around Weinmeisterstraße. With an imposing stock of haute couture designers like Issey Miyake, Helmut Lang and Dries van Noten, much about Das Neue Schwarz is quite intimidating: the prices, the staff, the hushed shopping experience without music or talk.
If you have deep pockets, you can nab gems like a Junya Watanabe contrast-stitch blazer, a skeleton-embroidered Diesel leather biker jacket or J Crew pullovers. For shoppers wanting something a little glitzier and cheaper, we recommend you go to the likes of Neukölln or Friedrichshain and save the hole you might burn in your pocket.
Paul's Boutique
Named after the 1989 Beastie Boys album of the same name, Paul's Boutique opened on Oderberger Straße 15 years ago and quickly became a Berlin institution. Rails of clothes are displayed outside the store, a dangerous honey trap for passing shopaholics. Inside, you'll find accessories, band t-shirts and vintage/second-hand clothing from popular brands like Dickies, Adidas, FILA and Nike. The nostalgia-soaked decor for which Rademacher is known really excels here. Among the paraphernalia hanging from the ceiling are a boom box, a Princess Leia model, a 'BERGHAIN' football scarf and several Lego spaceships.
Most of the space is dedicated to sneakers, an entire room actually. Stuffed between some hi-top Vans and old Nike Air Forces, a little throwback to 2019: Adidas Yung 1s for €40. We overheard a fellow shopper mumble to her friend, "How the hell am I supposed to find anything in here!?" Chaos for some, heaven for others.
Paul's Chapter Mitte
This place has been flaunting sporty classics since 2008, with an emphasis on 1990s streetwear. You'll find brands like Cheap Monday, Dr Martens, Ralph Lauren and Nike, all in great condition. The shop boasts an impressive selection of jeans with plenty of Levi's, and a great selection of suede and leather men's jackets from the 1980s-90s. Two beautiful ankle-length shearling pieces are kept behind the till if you're tempted to up your outerwear game this winter.
The vibrant selection of men's polos is also worth considering, including brands like Kappa, Lacoste and Hilfiger, which you can get from €16. Shelves and tables strain under a rainbow of Converse and piles of slip-on Vans (2009 flashback!). As is typical for Frank Rademacher, he closes merchandising gaps with items from his private, not-for-sale assortment of Marvel/punk-rock/Jesus iconography and other assorted curios.
Socialladen
A trip to Socialladen doesn't require a big budget, but it does require strategy. Despite its huge collection of women's and men's clothes, plus homeware, books and trinkets, the space is impressively organised. Clothes are priced by type, not by piece: coats and shoes are most expensive with everything else in descending order. No item will ever cost above €10 – so expect to do battle with the Depop resellers and their heaped trolleys of bargain buys at what is undoubtedly the cheapest second-hand shop in Berlin.
There's no telling what you will find on any given day at Socialladen. Premium sportswear or the odd Ralph or Hilfiger are the most common label finds, but this is hardly a curated concept store – rather a charity donation centre for those willing to take the time to craft an entire look from scratch for under €20.
Repeater / Vintage Shop
Sustainable-conscious youngsters have been a big part of the success of this string of well-located vintage shops. Repeater is a tribute to them and their insatiable thirst for thrifting. This is mid-market fare so €30 is about right for much of the stuff on offer, like red and black lumberjack shirts, jumpers with patterns of red, blue and grey diamonds, and baseball caps in an assortment of colours. Jackets in leather or fleece-lined denim go for slightly more.
On shelves above, vintage kingpin Frank Rademacher displays his other love: pop culture. Mint-condition Star Wars toys mingle with tiny versions of Indiana Jones, Godzilla and Kurt Cobain. A bust of Elvis oversees proceedings from the corner.
Ironic Gallery
Look out for a mannequin in a bizarre pose on Neukölln's Flughafenstraße, a tribute to the weird and wonderful crowd that frequents Ironic Gallery. The offering here is enough to make a Berlin club kid weak at the knees, ranging from Jean-Paul Gaultier woollen jackets to Burberry shirts to one-piece Dirk Bikkembergs suits. With clutch bags, silk scarves, retro sunglasses and Y2K t-shirts, you'll be hard-pressed not to find something you're into. And while you're searching, don't miss the Gallery's stock of art publications and magazines, exhibiting the best of Berlin's younger, less-established literary, musical and artistic scenes.
Pick'nWeight
Entering Pick'nWeight on Alte Schönhauser Straße, you're immediately hit by the sweet sound of Cyndi Lauper. The store resembles the cosy attic of a family home. Spaces are filled with old bowling pins, retro radios, a Singer sewing machine and – crucially – some old scales by the checkout. Because here, you pay by weight.
Founded in 2014, Pick'nWeight now has eight locations across Germany (four of which are in Berlin) and one in London. Despite its popularity, savvy shoppers know that the colour-coded pricing model isn't all it's cracked up to be. Piling things on the scales will result in less of a steal than you might expect. Then there's all that chatter about the dubious authenticity of the spoils. So no, serious vintage boffins don't stop here.
But with such a huge stock, there's no denying that Pick'nWeight offers the less-experienced thrifter a bounty of fashion inspo. The standard store boasts an assortment including Russian shapkas, French berets, and a lot of Western leather and denim. The rich selection of summer shirts is enticing, but shouldn't the reservoir of cool, suspiciously similar 1970s shirts run low at some point? Picknweight won't say much on that matter. A sales associate mentioned something to us about Asian storage units. On its website, the company says most of its haul is bought in Europe, but that some items are sourced from the US and Japan. Either way, this probably isn't the place to shop if you're looking for storied vintage.
Made in Berlin
Made in Berlin is part of the Pick'nWeight franchise but is their only store where items have fixed prices. Kudos for the excellent decor. Bubble-gum-pink walls are adorned with strange objects: a plastic brain, a disco ball and framed photographs of German pop icons like Scooter and Dieter Bohlen during his mullet years. One mannequin is wearing a banana costume, another is dressed in a gorilla suit.
This place features endless racks of tops, trousers and shoes, organised by colour, over two floors and three rooms. There is a decent haul of menswear, with plenty of lumberjack flannel shirts, quilted Barbour jackets and a tempting array of upcycled tie-dye tees, all in great condition. Special collections here include the 1980s aerobics leggings for €19 a pair, and a whole rail of ultra-cool Ice-Watches.
Want more Berlin tips? Sign up to our newsletter for the latest stories.