There's more to the Michelin Guide than its famous stars. In addition to that stellar award, there's also a more humble category that honours restaurants offering tasty cuisine made from good, fresh products at moderate prices: the Bib Gourmands.
🌟 Michelin stars 2023: Berlin shines bright on the fanciest list in food
In 2023, there will be three new restaurants on the Berlin list: Funky Fisch in Charlottenburg, Jäger & Lustig in Friedrichshain and the November Brasserie in Prenzlauer Berg.
These join the six others on the Bib Gourmand List, bringing the total to nine. So, where are Berlin's "bibs"?
Fish Fulfillment at Funky Fisch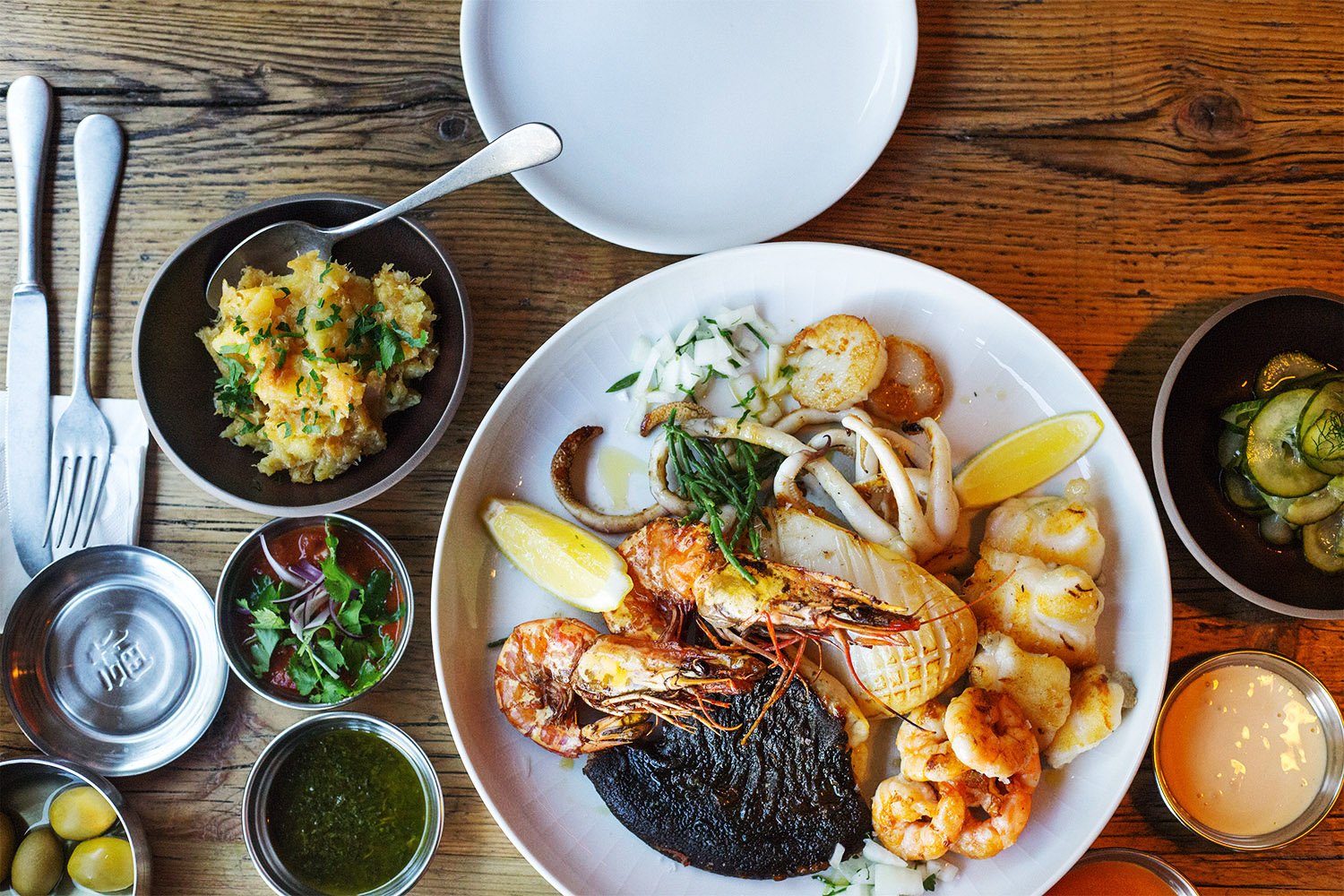 The clue is in the name – Funky Fisch, opened by Duc Ngo, is the fish restaurant that Berlin didn't know it needed.
The concept is simple: fish and seafood are on display, the guests choose their pick, the produce is then gutted before their eyes, cut, portioned and placed on the grill. Olive oil, roasting aromas and the Mediterranean surf characterise the taste of this shop and while much of the space is glazed, giving an aquarium-like sheen.
Down-to-earth cooking at Jäger & Lustig
The Jäger und Lustig tips its Trachtenhut to rustic regional cuisine with Hunter's Goulash, Deer Bratwurst as well as Köngisberger meatballs. There's a fun atmosphere in the large but cozy restaurant, which functions as a pub and beer hall in one.
In summer, there's also a beer garden – an all-round successful mix that the Michelin Guide has now honoured with a Bib Gourmand.
November Brasserie: Old Name, New Tricks
The legendary name has remained, but the new November, following the previous Kiez café, is a recently Bib-Gourment-awarded Japanese brasserie. Beautifully designed in the Bauhaus style: the wicker chairs by Le Corbusier fit finely with the wooden floors and wall panels of the old café. The cuisine, in addition to Japanese, also includes Wiener schnitzel. You can have a Japanese breakfast of omelette on rice and for dinner, king crab with spicy mayo dip and sashimi like tuna akami.
It was one of the hottest restaurants to watch from 2022.
The Best Veg from Gärtnerei
Vegetables are the favourite in this modern, cosy dining room with floral motifs on the wall and a moody lighting concept. The daily menu of the Bib Gourmand restaurant offers a choice of three courses for 39€. Other dishes on the small but ambitious menu include beetroot sashimi, grilled king prawns, spinach dumplings, free-range chicken and Wiener schnitzel. The wines are mainly Austrian – after all, that's where the landlord comes from.
Vegan Heaven at Lucky Leek
Instead of imitating meat cuisine like some vegan restaurants, the Lucky Leek dances to the beat of its own drum. For example, you can enjoy red cabbage risotto, celery sashimi and chickpea wantan or potato-walnut cannelloni in Riesling truffle cream in three- to five-course menus. The restaurant was awarded a Bib Gourmand by the Guide Michelin and guests have been flocking – be sure to book in advance.
Star Chef Tim Raue's Brasserie Collette
In the brasserie of two-star chef Tim Raue, you get top quality for your money. Mainly French classics such as steak frites or foie gras berlin are served in this more informal atmosphere, spiced up with Raue's typical panache and a correspondingly well-stocked wine list. A well-deserving member on the Bib Gourmand list.
Dim Sum Central at Long March Canteen
The walls are black, the light sparse. The central focal point: the dim sum station illuminated by red neon lights. The cuisine plays with spiciness, sweetness, roasted flavours, different textures and strong aromas – from Chinese crab on chilli lime mayo to buttery German pork belly with baby asparagus. Long March Canteen earned its Bib Gourmand badge in 2022.
Alpine Food to bite into at the Nußbaumerin
For some, the Nußbaumerin is the best Austrian in town, which we absolutely refuse to contradict and which Bib Gourmand has been confirming since 2013. As a little language aid, the Alpine menu comes with a German-Austrian dictionary that you can browse through in a stylish living room atmosphere. The most popular classics Wiener Schnitzel and Backhendl can however be ordered without a dictionary. And when it comes to apricot dumplings with butter crumbs, the proof of the pudding is in the eating.
Culinary Contemporary at Barra Natural Wine Bar
Celery, apple and Young Buck with a Northern Irish blue cheese or perhaps peas, radish and monkfish. These two dishes exemplify what you can eat at Barra – no eccentricity is just for the sake of it, and the products are simple yet effective from regional farmers and producers. This makes Barra in Neukölln's Schillerkiez a place that cuts to the heart of contemporary culinary art.
Adapted from the original German version by Annabel Wood