This city is an ice cream lover's paradise! As those first rays of sunshine hit the streets of Berlin, its countless parlours throw open their doors, offering a vast array of frozen delights. From tried and tested classics, to daring flavour combination, and every dietary restriction under the sun, here is our definitive guide.
Eisderix
You'll find Eisderix tucked away in Neukölln's Rixdorfer Kiez. Don't expect too many experimental flavours here, but instead you'll get to try what may likely be Berlin's best mango sorbet, as well as a selection of other classic flavours. Good to note: Eisderix supplies ice cream to the popular eatery Kuno15 in Charlottenburg, so you can grab a scoop there too.
Eisderix, Böhmisch Str. 48, Neukölln, details.
Jones Ice Cream
Founded by 2006 French Champion of Dessert, Gabrielle Jones, this inviting spot is known for their bold and enticing flavours. We recommend pairing your scoop of grapefruit and Earl Grey with their hugely popular greek yoghurt strawberry jam. Don't forget to grab one of Jones Ice Cream's freshly baked cookies too.
Jen and Ben Gelato Eisdiele
At Jen and Ben (no relation to a certain similarly named American ice cream producer) you can expect high quality handmade ice cream with a few unusual toppings, like lemon curd and edible flowers. They're also known to go bold with their flavours too, so expect flavour options like popcorn, liquorice and green apple.
Jen and Ben Gelato Eisdiele, Graefestr. 80, Kreuzberg.
VellGoods Eiskrem
VellGoods produces their ice cream from exclusively plant-based and sustainably-sourced ingredients. Watch the masters at work in their glass kitchen, while they lovingly whip up a selection of VellGood's homemade topping and creams to perfectly accessorise your ice cream flavour of choice.
VellGoods Eiskrem, Eckertstr. 1, Friedrichshain, details.
Vanille & Marille
A Berlin institution, Vanille & Marille produces 100% natural ice cream, free of artificial colourants or flavourings. Their selection runs the gamut — from tried and tested classics like Madagascar vanilla, to some slightly daring options including Caipirinha cocktail. Pop into one of their six locations across the city for a scoop (or tub) to go.
Vanille & Marille, Reichenberger Str. 118 & Hagelberger Str. 1, Kreuzberg; Friedrich-Wilhelm-Str. 22, Tempelhof; Belziger Str. 24 & Motzstr. 17, Schöneberg; Leydenallee 92, Steglitz, details.
Tenzan Lab
An ice cream parlour in Berlin that sells Kakigõri? For those not yet in the know, that's Japanese ice cream, shaved from crystal-clear blocks of ice that freeze very slowly. At Tenzan Lab, the Kakigõri masters shave jets into ultra-fluffy snowflakes right in front of the guests, using vintage hand crank machines. Varieties like raspberry, tiramisu or pineapple make it easy for beginners. But there are also green tea Matcha varieties. Tenzan Lab now also delivers ice cream directly to your door via Wolt, Ubereats and Lieferando.
Tenzan Lab, Wörther Str. 22, Prenzlauer Berg, details.
Mos Eisley
An absolute mos-stop before hitting Templehofer Feld on a sunny day is Mos Eisley. It's fresh ingredients only, and expect the unexpected with their ever-changing flavour menu. One thing you can always count on though — fresh takes on classic flavours, and even fresher fruit sorbets.
Mos Eisley, Herrfurthplatz 6, Neukölln, details.
Rosa Canina
With several branches around the city, this ice cream parlour never disappoints. Just be prepared for a challenge when deciding on a flavour, as they're serving up everything from a classic gelataria-style pistachio, to caramelised walnut and even a Moscow Mule-inspired flavour (complete with vodka).
Rosa Canina, Ackerstr. 174, Mitte; Pasteurstr. 32 & Raumerstr. 8, Prenzlauer Berg; Hufelandstr. 7, Pankow; Markthalle Neun, Kreuzberg, details.
Fräulein Frost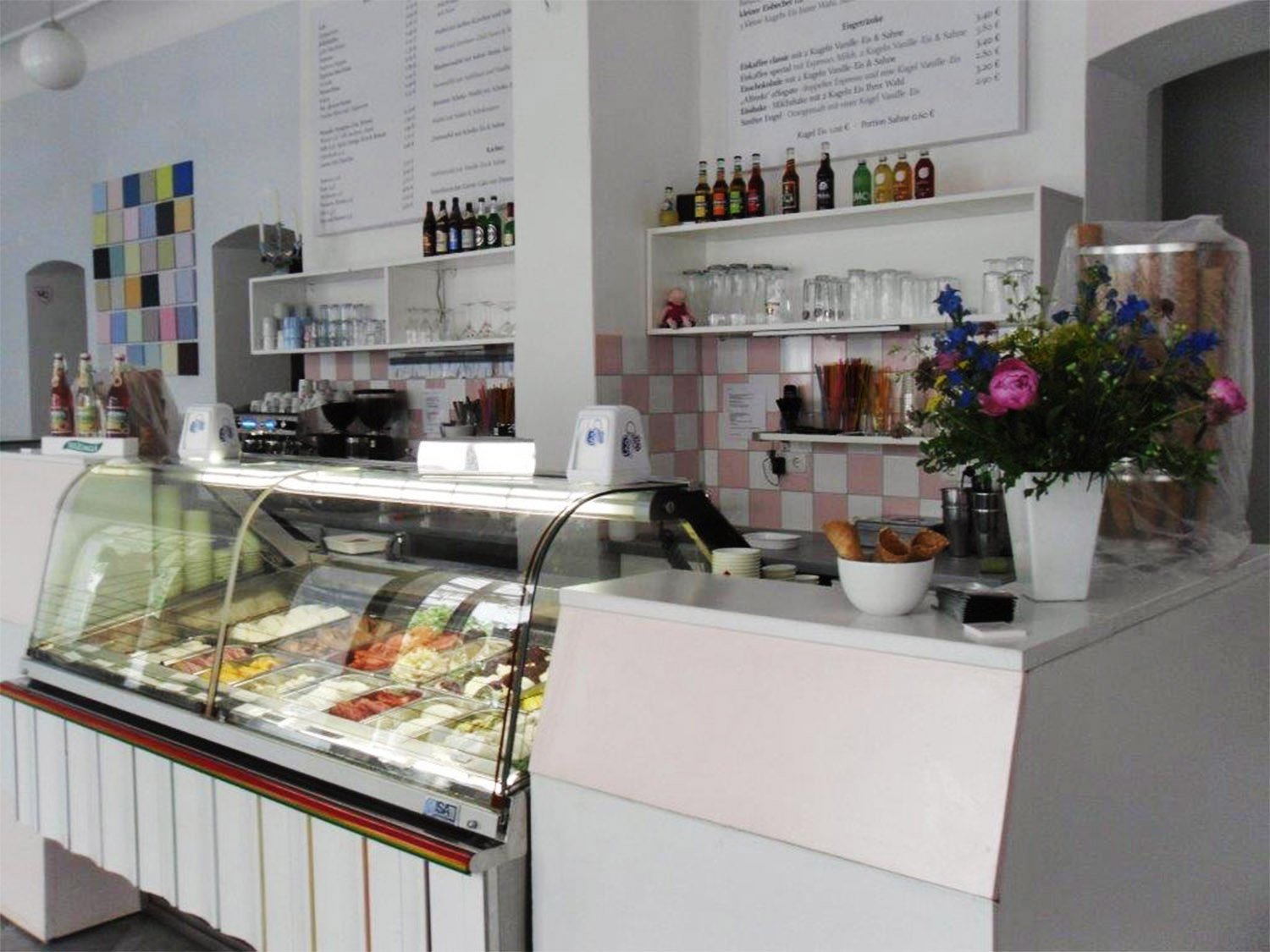 Whether it's pistachios, gooseberries or white chocolate with red fruit jelly: the ice cream at Fräulein Frost is homemade and aways good. All three of the ice cream parlour's locations are particularly popular with young families, which is why it tends to get crowded at peak times in the afternoon. But the queues are certainly worth it!
Fräulein Frost, Friedelstr. 39, Neukölln; Manfred-von-Richthofen-Str. 30, Tempelhof; Beckerstr. 4, Schöneberg, details.
Eissalon Tanne B
This ice cream spot has been scooping out house-made flavours since 2004 (sans artificial flavours, stabiliser or colourants). Their selection of cakes is also certainly worth noting, with beloved classics like New York Cheesecake and Kalter Hund.
Eissalon Tanne B, Eisenbahnstr. 48 & Bergmannstr. 15, Kreuzberg, details.
Eiskultur Berlin
Opened in 2015, The Eiskultur is Spandau's must-visit spot for quality ice cream. The place is pure nostalgia, but don't be surprised by their cautiously daring flavour variety, which includes apple butter crumble, lemon with cinnamon and lavender with wild blueberries. Their strawberry cup is a summer season classic. With around 18 varieties in the display case every day, you'll have no trouble finding your favourite.
Eiskultur Berlin, Schnellerstr. 118, Schöneweide, details.
Gimme Gelato
Gimme Gelato is just the thing on a hot Berlin day. Try their house-made gelato in its original creamy form, or as an adorable chocolate-covered popsicle. The chocolate and hazelnut Bacio, as well as the apple pie ice cream and red wine sorbet are also absolute must-tries.
Gimme Gelato, Wundtstr. 15, Charlottenburg, details.
Cuore di vetro
It's eis, music and art at Cuore di vetro. In the day, this Italian gelateria, cafe and live music venue serves up high quality ice cream, and at night hosts a number of unplugged jam sessions (check their Instagram for the latest schedules).
Cuore di vetro, Max-Beer-Str. 33, Mitte & Simon-Dach-Str. 40, Friedrichshain, details.
Eisbox
When it comes to ice cream, Marion Schmid was one of the first in Berlin to pay attention to regional fruit and seasonal processing. Today, Eisbox's chocolate and espresso sorbet are still out-of-this-world. In the mood for something a bit lighter? Pair a homemade biscotti with an espresso (if it's good enough for the ice cream, it's good enough for you!).
Eisbox, Elberfelder Str. 27, Moabit, details.
Eispiraten
Eispiraten is the perfect place for all those kids (and adults) who dream of escaping to the high seas. This Friedrichshain spot is decorated with skull and crossbones, a glistening booty chest and creepy pirate hat-wearing mannequin, of course. The long queues are certainly worth it – among their 32-flavour menu, they're serving up butter biscuit, passion fruit raspberry with cardamon and grandma's apple pie.
Eispiraten Grünberger Str. 85, Friedrichshain, details.
Florida Eiscafé
Arguably Spandau's most popular edible export. Florida Eiscafé has been in the ice cream business since the 1920s, when they served up scoops to moviegoers at the long-gone Concordia Kino. But this isn't your great-granny's ice cream. Beyond their classic flavour selection, Florida Eiscafé also produces a high quality sorbet free of lactose, gluten and artificial colours.
Florida Eiscafé, Altstädter Ring 1 & Klosterstr. 15, Spandau, details.
Hokey Pokey
With multiple locations in Prenzlauer Berg, Mitte and Pankow, Hokey Pokey has established itself at the top of Berlin's quality ice cream scene. This is serious stuff — artisanal and produced with only the finest ingredients. Although a stop at Hokey Pokey will set you back a bit more than your average eis palour, and the queue might make you do a double take, it's certainly all worth it.
Hokey Pokey, Stargarder Str. 72+73 & Oderberger Str. 38, Prenzlauer Berg; Torstr. 141, Mitte; Berliner Str. 49, Pankow, details.
Scoopy Doo
Come for the adorable name, stay for the giant servings! This Charlottenburg ice cream palour might be small, but the flavours are mighty (as are their enormous bubble waffle cones). We recommend their eponymous ScoopyDoo flavour, made from a super-secret fruit mix. Their other varieties change regularly and there are always plenty of vegan-friendly options too.
Scoopy Doo, Georg-Wilhelm-Str. 4, Charlottenburg, details.
Canal Berlin
Canal Berlin founder Daniela Barriobero Canal is a passionate pastry chef — and that's reflected ten-fold in her ice cream flavours. Expect a bold mix of tastes and textures, with flavours like olive oil and peach, topped with roasted hazelnuts. Homemade brownies also make the perfect addition to Canal's signature hazelnut ice cream.
Canal Berlin, Rosenthaler Str. 40 (in the Hackesche Höfe) & Linienstr. 54, Mitte, details.
Spoonful
Since this artisanal ice cream palour was founded in Rixdorf back in 2014, it's expanded to several branches in Wedding, Kreuzberg and Neukölln. In addition to a variety of creamy dairy-based frozen delights, Spoonful has also become renowned for its lactose-free and vegan Matcha, as well as some inventive cinnamon, honey and apple-based options.
Spoonful Berlin, Karl-Marx-Platz 17 & Weserstr. 6, Neukölln; Gärtnerstr. 33, Friedrichshain; Auguststr. 63, Mitte; Maxstr. 11, Wedding; Graefestr. 7, Kreuzberg, details.
Kleine Eiszeit
According to this spot's (many!) enthusiasts, the often 20 minute-long queue is worth it without a doubt. A Prenzlauer Berg institution since GDR times, Kleine Eiszeit definitely isn't trying to reinvent the wheel with their selection of classic, but utterly delicious flavours.
Kleine Eiszeit, Stargarder Str. 7, Prenzlauer Berg, details.