Did you know Germany's favourite street food was born right here in Berlin?
While the idea of rotating huge chunks of meat on a spit is centuries old, it wasn't until the 1970s that Turkish migrant workers in Kreuzberg first stuffed the thinly-shaved slices into flatbread alongside their signature sauces, salad, and veggies. Nobody knows exactly who exactly started it all, but one thing's for sure: we should be eternally grateful.
Already craving for a kebab? Here's our list of Berlin's best döner:
Doyum: Damn good döner
Things get pretty busy around Kottbusser Tor, but it's worth stopping and savouring the delicious döner at Doyum. One of the best kebab places in the city, Doyum's döner are deliciously salty and fatty with that signature spicy kick. But the rest of their menu is just as good, from their starters to their desserts.
Adana Grillhaus: Authentic Turkish cooking
With multiple locations within walking distance from each other, eating at Adana Grillhaus is as delicious as it is convenient. Both their döner and their lamb chops are some of the best and most authentic in the city – not to mention their aromatic köfte and flaky baklava. If you haven't eaten here, you're definitely missing out.
Karun Bistro: Persian kebabs
Kebabs and köfte are likewise staples of Persian cuisine, and Karun Bistro serves them alongside grilled tomatoes, cucumber-mint yoghurt, and your choice of flatbread or saffron rice. It's a self-service restaurant, so it's the perfect place for some casual comfort food.
Imren: Döner with homemade sauces
There are multiple Imren locations across Berlin, but only the one at Rathaus Neukölln has some of the best döner in the city. It's a must-visit for its juicy, perfectly-seasoned meat, fresh salad, and homemade sauces alone, but its pide, gözleme, and lahmacun are delicious, too.
Rüya Gemüse Kebap: Chicken döner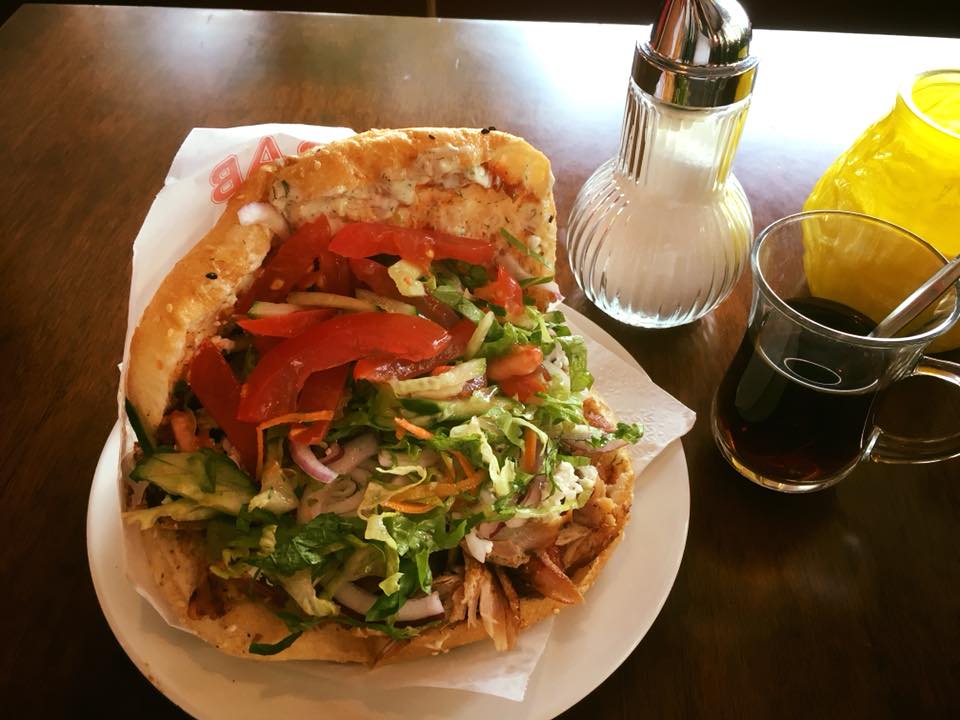 Don't be fooled by its name: The döner here at Ernst-Reuter-Platz contain meat, specifically chicken. And they're some of the best in town, at that!
Öz Samsun: Döner day and night
For years, Öz Samsun has been hailed by taxi drivers as Berlin's best-kept secret, and it's not hard to see why. No matter what time of day or night you stumble through the door, you can expect tea, ayran, the best lentil soup in the city, and, of course, döner.
And here's another insider tip: In addition to sauces you typically find on döner, at Öz Samsun you can also get them with cacık.
Pamfilya: Home of the dürüm döner
For lots of kebab connoisseurs in Wedding, there's really only one option: Pamfilya. For over 20 years, the restaurant has been faithfully serving up döner with lean veal. They've also been credited with popularising dürüm döner – but take that claim with a pinch of salt (and lots of garlic sauce).
Mustafa's Gemüse Kebap: Berlin's most famous döner
Either you live under a rock, or you know Mustafa is the king of kebabs here in Berlin – with a comically long queue to prove it. Since 1996, the little food stall in Mehringdamm has gained a cult following among tourists as well as locals with its signature chicken-vegetable döner. Overrated or really that good? You decide – but no Berlin döner list is complete without it.
Nur Gemüse Kebap: Actually vegetarian döner
It may not look like much, but people swear by this little Imbiss at Hermannstrasse for its friendly service and tasty döner with grilled veggies and feta.
Tadim Lahmacun: Kebabs at Kotti
Located in the middle of Kottbusser Tor, Tadim Lahmacun is the perfect place to enjoy tasty döner and people-watching. Without much experimentation to speak of, it's a must-visit for döner-purists – but, as its name would suggest, it's also got great lahmacun.
Örnek: Berlin's best lahmacun
We've heard that the team from prestigious Japanese restaurant Ernst can sometimes be spotted taking lunch at Örnek. And considering head chef at Ernst Dylan Watson's accolades, that's a stamp of approval in and of itself. But we'll give it ours, too: Örnek has the best lahmacun in Berlin.
Tekbir: Local favourite
While it may not have the same renown as some of the other places on this list, Tekbir has been Skalitzer Strasse's reliable supplier of delicious döner for decades. Tried and true, it's a favourite among Kreuzberg's night owls and kebab-lovers.
This article has been adapted from the German by Seraina Birdsey.