They say breakfast is the most important meal of the day – and if that's true, why shouldn't it also be the best? Luckily Charlottenburg has no shortage of restaurants to help you start your day off right. Here are our 13 favourite places to get breakfast.
The Dawn: Bikini Berlin's rooftop café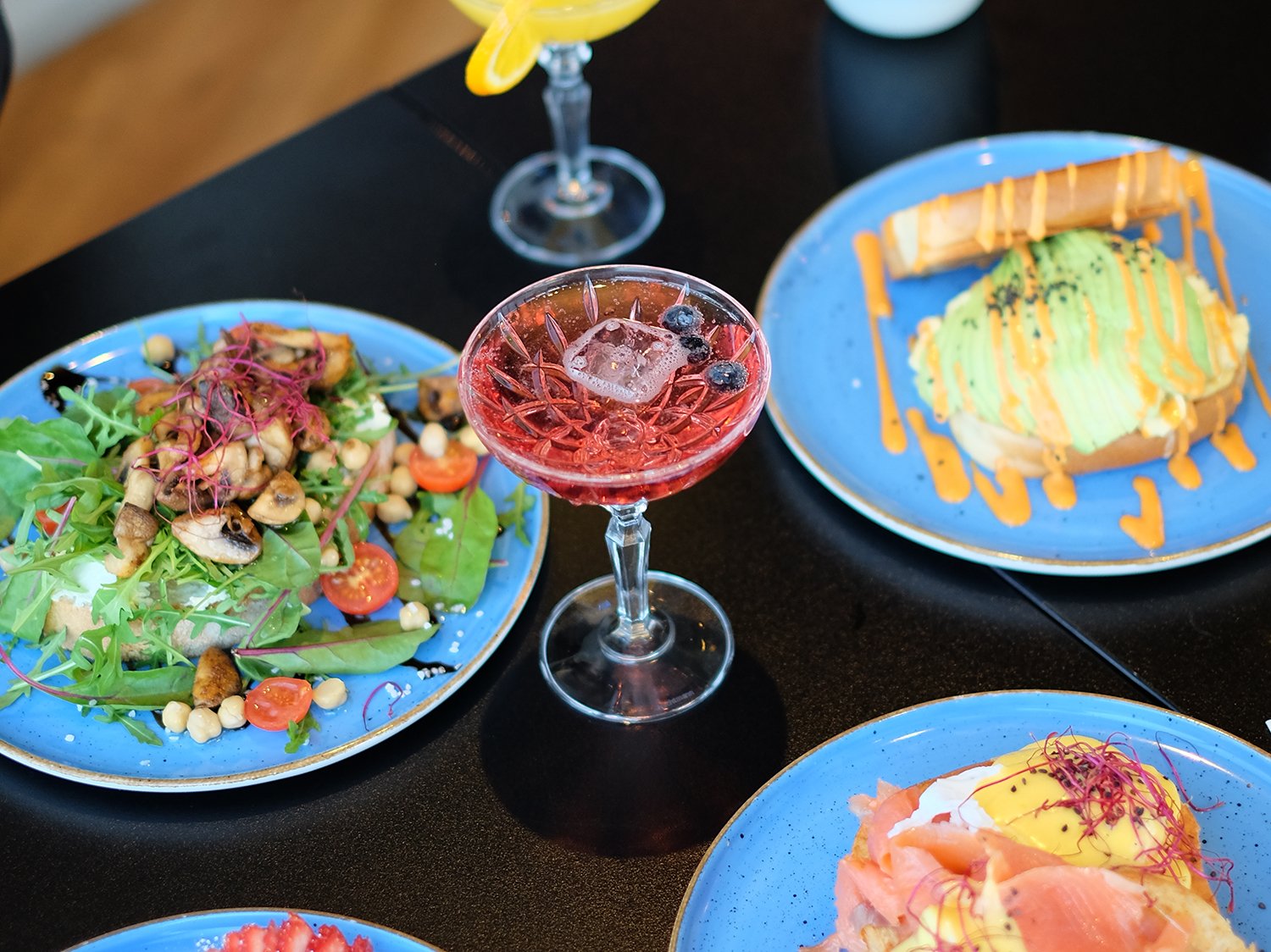 Located on the roof of the concept shopping mall Bikini Berlin, The Dawn offers a meal with a view that you won't get anywhere else: the monkey enclosure of the Berlin Zoological Garden. But they're not monkeying around when it comes to providing a satisfying meal.
Their diverse menu offers breakfast classics like eggs benedict and smoked salmon, but also hummus and a widely-beloved scrambled egg sandwich with sriracha mayo served on a brioche bun. And remember, "kein Bier vor vier" doesn't apply to cocktails, so feel free to make your brunch boozy with one of their delicious drinks, like their energising espresso martini or a refreshing mimosa.
Or just some fresh-squeezed orange juice. That's good, too.
Lo-Mi and 1900: Two cafés, one address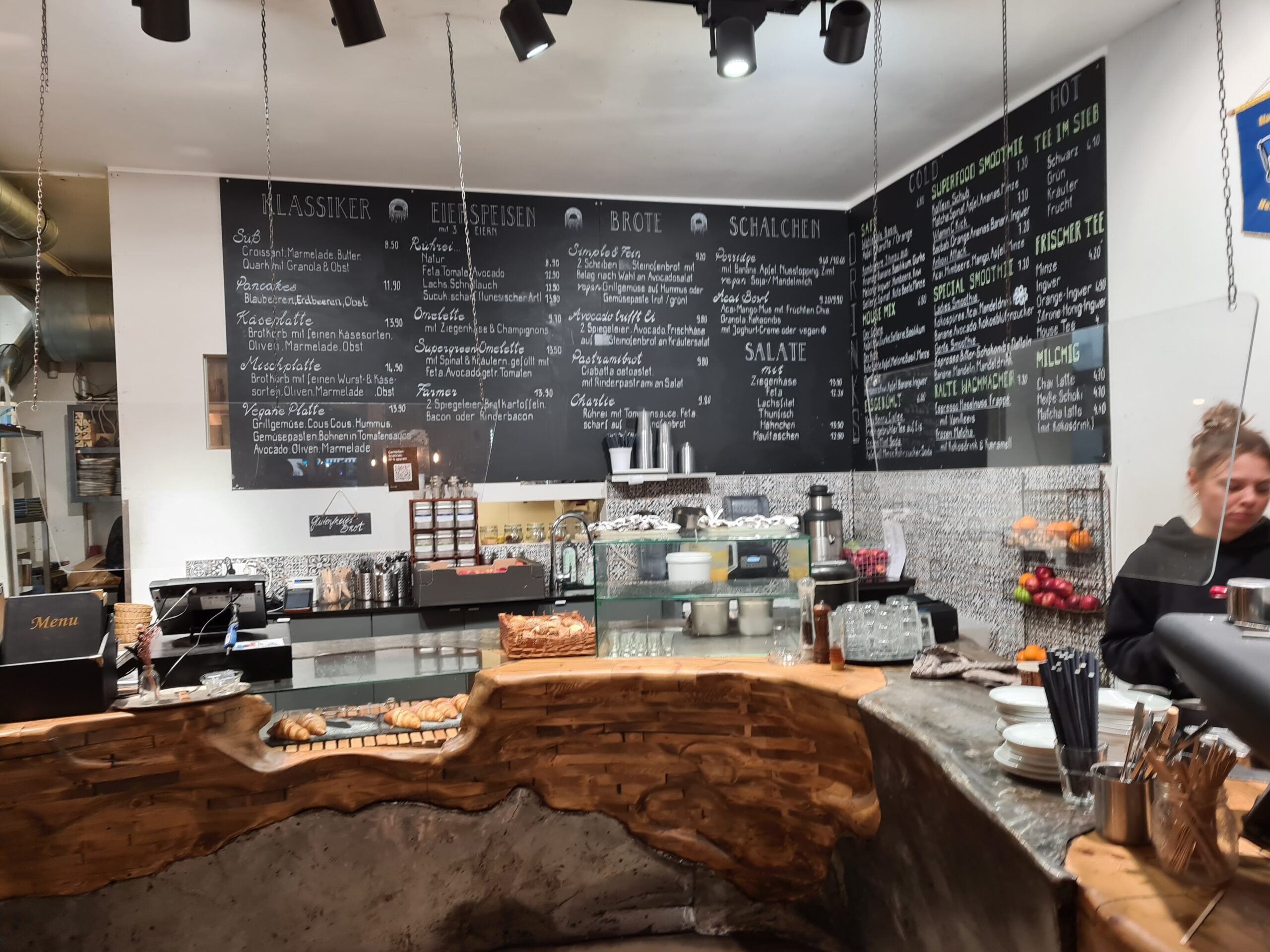 Whether you lean sweet or savoury, or vegan or carnivore, Lo-Mi has a menu that can accommodate pretty much anyone that crosses the threshold into their cosy but modern café. Croissants, yoghurts with fruit and granola, vegan platters including grilled veggies and hummus, acai bowls, omelettes, sandwiches, salads – you name it, they have it.
But if you're looking for good old-fashioned rustic charm, 1900 right next door is your best bet. Enjoy classic breakfast staples like eggs benedict, or go for their special "breakfast 1900" for two, consisting of Hungarian salami, serrano, cooked ham, turkey breast, sliced and soft cheese, jam, fruit and orange juice. Between these two cafés, people looking to start their day at Knesebeckstrasse 76 can't really go wrong.
Die Stulle: Berlin's best sandwiches
A sandwich may not seem like the most exciting option when you're going out for breakfast, but that's probably only because you've never been to Die Stulle.
Located by Savignyplatz, this café takes its sandwiches seriously, as its name would imply. Their toasted walnut bread, for example, comes with a variety of possible toppings, like poached eggs, avocado, parmesan and homemade dressing. But Die Stulle is far from a one-trick pony; their menu includes plenty of non-sandwich options, too, such as tasty bowls and pancakes.
Sets: Ready, Sets, go (to Schlüterstrasse's urban coffeehouse)
Doubling as a quaint BnB, Sets offers all-day breakfast whether you're spending the night or just there to eat. Enjoy club-sandwiches, acai bowls or tuna melts on freshly baked sourdough. But the highlight of the menu is definitely the high tea, which you can order with your choice of tasty snacks whether you're treating yourself or eating with someone else.
Schwarzes Café: All-day (and all-night) breakfast
There may be a neon parrot sign hanging in the window, but Schwarzes Café is definitely made for night owls. Since 1978, the restaurant has redefined breakfast by serving it up any time of the day or night, with your choice of anything from coffee to Aperol Spritz.
As the weather starts to warm up, you might enjoy a peaceful meal in the courtyard – or stumble in at five in the morning on a Saturday after dancing your heart out at one of Berlin's nightclubs. Either way, you'll have your pick of Schwarzes Cafe's classic but creatively-named breakfast combos, like the 'breton breakfast' (hot chocolate and a croissant with a sweet spread) or the 'first love' (toast, two eggs prepared to your liking, and freshly-pressed orange juice).
It may not be your first meal of the day, but there's a good chance it'll be the best.
Caras Gourmet: café and deli
With two locations in Charlottenburg, Caras Gourmet has cornered the market on quick and quality breakfast food in the district. Whether at Ku'damm or Ernst-Reuter-Platz, both locations offer the same tasty menu: healthy snacks, great coffee, wraps, sandwiches, salads and homemade baked goods.
Markthalle Neun's Kame Berlin: now on Leibnizstrasse
This Japanese bakery started out as a stall in Kreuzberg's famous Markthalle Neun, but now it's brought its tasty sweets and treats to Charlottenburg. Grab a seat – or sit on the floor – and enjoy a melon pan (a sweet bun with a sugary glaze) or some onigirazu (a rice ball with a variety of fillings and wrapped in seaweed). Kame is also great for afternoon tea; their roasted green tea pairs perfectly with their matcha-cheesecake.
Never Ending Love Story: a love letter to breakfast
If you're reading this article, you probably like breakfast. But do you love breakfast? Do you lie awake at night thinking about breakfast? Do you dream of kissing breakfast under the moonlight? The staff at Never Ending Love Story sure do (probably) and they've got a menu that's sure to make you fall head over heels.
French toast with mascarpone-raspberry compote and fresh berries, truffle eggs, nutella pancakes – you can go ahead and pinch yourself now if you want, but no, you're not dreaming. Just know that you're not the only one who has their heart set on this place, so snap out of it and grab a table before it ends up being the one that got away.
Roca: Regal breakfasts
The Waldorf Astoria's restaurant Roca is offering luxurious weekend brunches where champagne and eggs reign supreme. But you can expect more than just the classic brunch staples, delicious as they are – the menu also includes surf & turf (king prawns, veal, spinach and truffle butter) and even some Japanese dishes (yakitori, scalloped leeks, caviar and miso espuma).
Enjoy a great view of the Gedächtniskirche while you take in the opulent atmosphere and delicious food at Roca.
Café au Lait: More than just the coffee
In addition to its yummy breakfast platters or its beloved Café au Lait breakfast for two (which can also be prepared vegetarian), people also love the restaurant's so-called 'superbowls.' And it's easy to see why: who wouldn't want to start their day with a bowl of steamy porridge with your choice of seeds, goji berries and mango puree?
If that's not your thing, they also serve pancakes all day, which you can order with caramelised cinnamon apples, mascarpone, almonds and maple syrup. And unlike some of the other places on this list, Café au Lait also serves lunch and dinner in the form of sandwiches, pasta, tapas and Flammkuchen.
Literaturhaus Café: Bookish breakfasts
Located in a villa in a peaceful neighbourhood of Ku'damm, this literary institution also has considerable culinary chops. Inspired both by French and south-German cuisine, their menu is classic but modern, with cheese from Mâitre-Philippe, artisanal wines and delicious cakes. The beauty of the 19th-century architecture is matched only by the natural charm of the garden.
Kaffeehaus Mila: Fair-trade and homemade
With Kaffeehaus Mila's modern and relaxed atmosphere, you could probably spend a whole day just sampling their assortment of organic and fair-trade coffees. If you need a break from the caffeine, you can move on to their selection of fresh-squeezed juices. They also have a variety of breakfast options to sweeten the start to your day, which you can enjoy with some of their homemade jam. Sit outside with a cup of coffee and a good book or invite some friends for a Kaffeeklatsch.