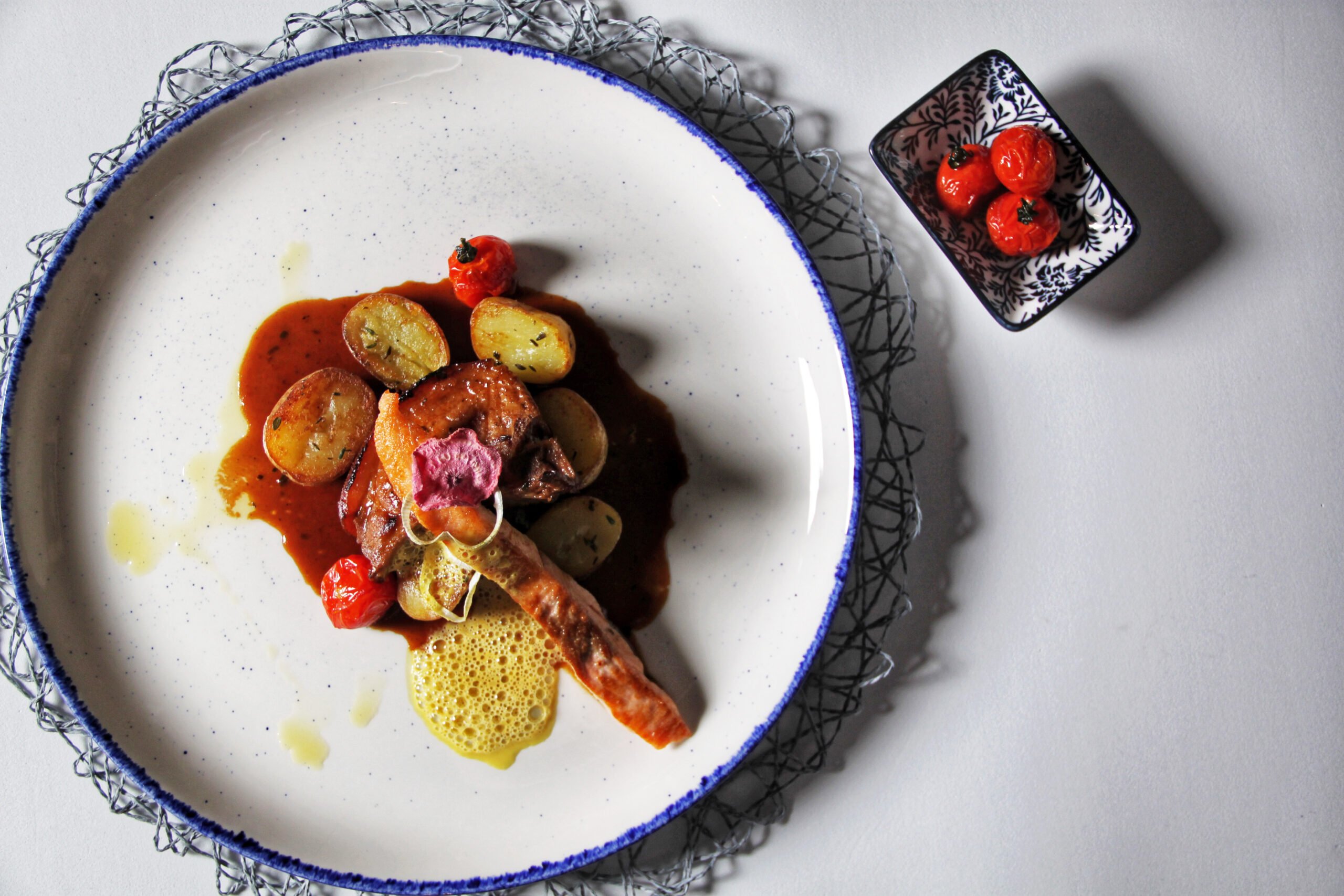 In the warmer months, you can also enjoy seafood meatballs and fish & chips out in the beer garden.
In the mood for fish food?
A maritime offshoot of Friedrichshain restaurant Jäger & Lustig, Fischer & Lustig specialises in reinventing regional seafood recipes in a way that's classic yet contemporary. Between the flood of fish dishes on the menu and the restaurant's charming nautical aesthetic, you'll forget you're miles away from the nearest ocean.
Not convinced? One bite and they'll have you hook, line, and sinker!
Swimming against the current in Nikolaiviertel
Plattenbauten, mediaeval architecture, residential area, tourist hub: Nikolaiviertel is full of contrasts that make going out to eat there a dice-roll that could land you in a tourist trap just as easily as in a neighbourhood favourite.
Enter Fischer & Lustig. Having opened in autumn of 2022, the restaurant is still relatively new, but it's already bridging the oceanic rift between the district's extremes with modern takes on traditional seafood specialties. Good food is good food, after all, whether you're a tourist in town for a few days or a local who's lived here for decades.
Of course, reeling in regulars is easier when you get a head start on building a reputation. Fischer & Lustig's sister restaurant Jäger & Lustig was a beloved fixture of Friedrichshain's food scene even before being revitalised by current owner Alexander Freund.
Like its name would suggest, meat is the main thing on the menu at the hunter's lodge, but there's no reason Freund's formula for success can't work just as well with seafood.
Kitchen fishin'
After some initially troubled waters, veteran of high-end hotel gastronomy Olaf Böhlke is now captain of this kitchen. But the dishes at Fischer & Lustig are more down to earth (or in this case ocean), consisting of comfort food with a maritime twist.
Served with a side of roasted potatoes, the breaded catfish is delightfully meaty, and the crispy fish sticks appeal to all ages. And, of course, the menu wouldn't be complete without deliciously soft ceviche or fishy North-German feasts of Labskaus and Kutterscholle.
There are a few surprises in store, though: Pleasantly fruity minced herring and salmon with apple, a unique take on Fischer Brote ('fisherman breads'), cordon bleu made of turbot, and Himmel und Erde ('heaven and earth' – a dish usually made with sausage or pork) with walleye and crayfish.
In the warmer months, you can also enjoy seafood meatballs and fish & chips out in the beer garden. But for those who aren't ready to take the plunge into ocean cuisine, the restaurant also offers some seasonal meat dishes and vegetarian options.
So, whether you're there for a Feierabendbier, a family meal, or you just appreciate bold wallpaper patterns, Fischer & Lustig offers both great food and great atmosphere. Take a dive and dig in!
Fischer & Lustig Poststr. 26, Mitte, details.
This article has been adapted from the German by Seraina Birdsey.